A BIOGRAPHY OF CARDINAL OKOGIE AND THE NIGERIAN NATION
TABLE OF CONTENT
CHAPTER ONE
Background to Study
Introduction
Clarification of relevant terms
Aims and objectives of the study
Methodology and scope
Division of work
CHAPTER TWO
Biography
Birth and Education
Ascension to the Priesthood Cordination as P…
When he was caporal as a cardinal and archbishop
CHAPTER THREE
3.1Offices and Responsibilities
3.2Okogir and CAN
CHAPTER FOUR
4.1Okogie and Politics
4.2Okogie and the Catholic Charismatic Movement
4.3Okogie and Ecumenism
4.4Okogie and other Christian Movement
CHAPTER FIVE
5.0Evaluation and Conclusion
5.1Evaluation
5.2Conclusion
ABSTRACT
This study is centred on his eminence Anthony Cardinal Okojie (Catholic Archbishop of Lagos) his contributions to the Catholic Church Christianity and the Nigerian nation. This has became necessary in the view of the public perception of this clergy. One of the findings as in that Cardinal Okojie who is seen as a social critique has contributed in no small measure to nation building through his support for morality education democracy and rule of law. A major limitation was my inability to see him one on one. However, painstaking effort was made to see his personal secretary (F. Marcel Amadi) who I conducted oral interview with. The methodology applied in carrying out this study is historical and expository.
CHAPTER ONE
1.0BACKGROUND OF THE STUDY
1.1INTRODUCTION
The Catholic Church right from its advent into Nigeria has continued to impact the spiritual, moral, educational, social and political sphere of the Nigerian nation. In the history of the church's contribution towards nation building, one man stands out, and he is Anthony Cardinal Okojie whose relentless efforts towards making Nigeria a better nation is worthy of study.
His Eminence Anthony Cardinal Okogie, the catholic archbishop of Lagos is a man who has contributed in no small measure to the growth and development of the Catholic Church and the nation in general. Before his priestly ordination in December 1966, he had gone through preparatory stages of intellectual, moral, spiritual and human formation all of which equipped him for the struggle to enthrone a better Nigeria and the world in general.
1.2CLARIFICATION OF RELEVANT TERMS
For a smooth reading and better understanding of the content of this research work, it is necessary to clarify some terms that may be used in the course of the study. These include:
1.2.1Ecumenism:
This refers to the whole Christian church seeking Christian unity worldwide.1
1.2.2Secularization:
This means the process of a long from religious to civil use or control.2
1.2.3Democracy:
Democracy means a form of government by the people through elected representatives.3
1.2.4Doctrine:
This refers to a principle of belief of a church.4
1.2.5Government:
The exercise of authority over a state, organization, a system of ruling.5
1.2.6 Celibacy:
Celibacy means unmarried state of a person or complete sexual abstinence.6
1.2.7Encyclical:
This is used to refer to a circular letter from the Pope or Vatican to all the churches.7
1.3AIMS AND OBJECTIVES
1.3.1:To present Okogie as a man worthy of emulation and commendation because of his dogedness in the fight for the rule of law, democracy, human rights and good governance.
1.3.2: To portray Okogie as an ardent defender of catholic doctrine.
1.3.3:To investigate the ecumenical commitment of Okogie.
1.4SCOPE OF THE STUDY
This study will focus on his Eminence Anthony Cordinal Okogie, biography, priestly ordination and his contribution to the Catholic Church Christianity and nation building.
1.5METHODOLOGY
The research methodology is historical expository. Oral interviews will be conducted. Materials, journals and books that have been published and made available at the Holy Cross Cathedral, Lagos will be consulted.
1.6 DIVISION OF WORK
In this research, chapter 1 provides the background to the study. This includes introduction, methodology, aims and objectives of the study. Chapter 2 deals with the biography of Cardinal Okogie and his priestly life. Chapter 3 highlights his different responsibilities and functions as a priest, bishop and cardinal. Chapter 4 deals with Cardinal Okogie's stand on Ecumenism, charismatic movement, politics and other Christian denomination. Chapter 5 summarizes and concludes the entire study.
GET THE COMPLETE PROJECT»
Do you need help? Talk to us right now: (+234) 8111770269, 08111770269 (Call/WhatsApp). Email: [email protected]
IF YOU CAN'T FIND YOUR TOPIC, CLICK HERE TO HIRE A WRITER»
Disclaimer: This PDF Material Content is Developed by the copyright owner to Serve as a RESEARCH GUIDE for Students to Conduct Academic Research. You are allowed to use the original PDF Research Material Guide you will receive in the following ways: 1. As a source for additional understanding of the project topic. 2. As a source for ideas for you own academic research work (if properly referenced). 3. For PROPER paraphrasing ( see your school definition of plagiarism and acceptable paraphrase). 4. Direct citing ( if referenced properly). Thank you so much for your respect for the authors copyright. Do you need help? Talk to us right now: (+234) 8111770269, 08111770269 (Call/WhatsApp). Email: [email protected]
Related
---

Purchase Detail
Hello, we're glad you stopped by, you can download the complete project materials to this project with Abstract, Chapters 1 – 5, References and Appendix (Questionaire, Charts, etc) for N4000 ($15) only, To pay with Paypal, Bitcoin or Ethereum; please click here to chat us up via Whatsapp.
You can also call 08111770269 or +2348059541956 to place an order or use the whatsapp button below to chat us up.
Bank details are stated below.
Bank: UBA
Account No: 1021412898
Account Name: Starnet Innovations Limited
The Blazingprojects Mobile App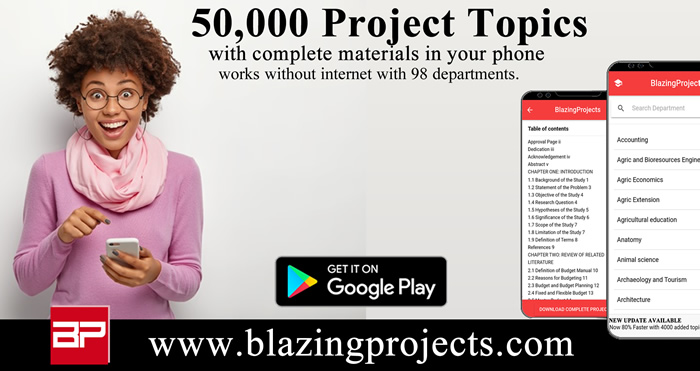 Download and install the Blazingprojects Mobile App from Google Play to enjoy over 50,000 project topics and materials from 73 departments, completely offline (no internet needed) with the project topics updated Monthly, click here to install.