A DECISION MODEL FOR THE DESIGN AND OPERATION OF INVENTORY PROGRAMMES IN A MANUFACTURING INDUSTRY
ABSTRACT
A working inventory model is developed to incorporate the partial back ordering inventory with references to the back ordering inventory model by Jonah and Chukwu. The re-order point models of maximum expected cost and service level approach were also established. Data, covering the demand, set-up cost, and the Holding cost were obtained from the Champion Breweries Plc, other related data were estimated. These enabled the application of the models to obtain, the review period, (T) the fill rate (F), the stock-out (S) and finally the order quantity (Q). It was found and could be recommended that a quantity (Q) of 285022 tons of plan sorghum be placed bi-ennialy with a lead time of four (4) weeks. At a time the stock level is expected to be at 58.746 tons.
This Research Project Material is posted with good intentions. if you own it, and believe that your right is infringed or violated, Please send us a mail – [email protected] and actions will be taken immediately. Thank you.
---
Talk to us
Please call 08111770269 or +2348059541956 to place an order or use the whatsapp button below to chat us up.
---
The Blazingprojects Mobile App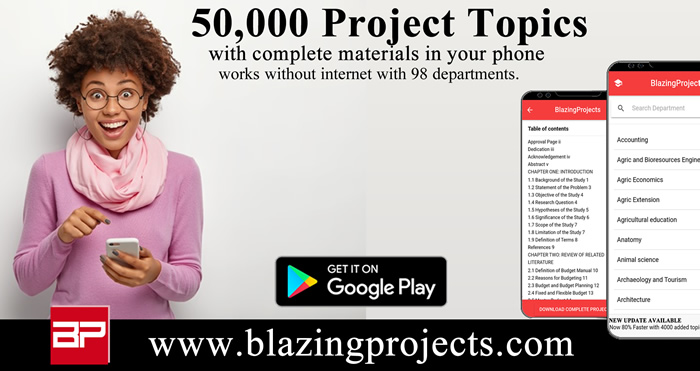 Download and install the Blazingprojects Mobile App from Google Play to enjoy over 50,000 project topics and materials from 73 departments, completely offline (no internet needed) with the project topics updated Monthly, click here to install.
Contains 50,000 project topics.
With complete project materials.
Contains 73 departments.
Completely offline, No internet needed.
Updated Monthly with new project topics & departments.
Easy to navigate and search projects.
Easily shareable via Xender, Bluetooth, etc.
Easy project support from inside the App.
Universities, Polytechnics & Colleges of Education.
INSTALL NOW