ABSTRACT
The study identified the way the introduction of modern ideas and techniques has affected the traditional set up of the Nigerian society which is gradually losing its identity because of its influence and adulterated culture. It focuses on the adaptation of Nigerian handcraft woven and printed fabrics for apparel production and fashion appreciation.The general objective of the study is to adapt designs, produce and manipulate the product for apparel and fashion in Kaduna state. Its significance is based on educational, socio-cultural, economical and industrial.The chapter one focuses on the general background/ introduction of the study , it also examines the research problem, objective, questions, justification and significance of the study, scope and the delimitations as well as basic assumptions of the study in order to establish the general existence. In chapter two the study focuses on the review of the related books which were cited and acknowledged.In chapter three, it focuses on the methodology of the study which examines how the entire study was carried out. To this end, exploration research was carried out; other parameters of investigation used include population of the study, sampling techniques, materials and methods, data analysis. The population of the study was narrowed down to different individuals mostly youths, fashion designers, hand weavers, marketers of handcrafted apparel, elderly individuals, in Kaduna state. These were randomly selected.Chapter four contains data presentation; analysis and discussion of the result obtained from questionnaire, interview, and observational schedules administered during the field study. However the analysis is the means by which the research question formulated are answered thus carefully highlighted in the body of the discussion of the study. Responses were tabulated in frequencies and percentage with descriptive non- statistical techniques of data analysis which was later transferred into statements.Chapter five focuses on the summary of the entire study, the conclusion and recommendations of the study were largely achieved. Based on the findings the study however proffers recommendations in order to improve handcrafted weaving and printing activities and enhances it productivity in Kaduna state and Nigeria at large.
TABLE OF CONTENTS
Title Page – – – – – – – – – – i Declaration – – – – – – – – – – iii Certification – – – – – – – – – – iv Dedication – – – – – – – – – – v Acknowledgement – – – – – – – – – vi Table of content – – – – – – – – – viii Abstract – – – – – – – – – – xi CHAPTER ONE: INTRODUCTION 1.0 Introduction – – – – – – – – – – 1
1.1 Background – – – – – – – – – – 1
1.2 Statement of the Problem – – – – – – – 4
1.3 Aim of the Study – – – – – – – – – 4
1.4 Objectives of the Study – – – – – – – 5
1.5 Research Questions – – – – – – – – 5
1.6 Justification – – – – – – – – – 5
1.7 Significance of the Study – – – – – – – 6
1.8 Scope and Delimitation of the Study – – – – – – 8
1.9 Basic Assumption of the Study – – – – – – – 8
ix
CHAPTER TWO: LITERATURE REVIEW 2.1 Introduction – – – – – – – – – 9 2.2 Concept of Weaving – – – – – – – – 9 2.3 Economic Value – – – – – – – – – 11 2.4 Appreciation of the Socio-Cultural Trend. – – – – – 12 2.5 Nigerian Culture – – – – – – – – – 15 2.6 Types of Weaving – – – – – – – – – 16 2.7 Types of Woven Fabrics in Nigeria – – – – – – 16 2.8 Concept of Printing – – – – – – – – 21 2.9 Types of Printing – – – – – – – – – 21 2.1.0 African Prints- – – – – – – – – – 23 2.1.1 Apparel and Fashion – – – – – – – – 26 2.1.2. Possible Negative Effects of Clothing – – – – – 29 2.1.3 Influence of Westernization on Apparel and Fashion among Youths. – 29 CHAPTER THREE: RESEARCH METHODOLOGY 3.1 Introduction – – – – – – – – – 33 3.2 Research Design – – – – – – – – – 33 3.3 Population of the study – – – – – – – – 33 3.4 Sampling technique – – – – – – – – 33 3.5 Materials and Methods – – – – – – – – 34 3.6 Data Collection – – – – – – – – – 34
3.7 Research Instruments – – – – – – – – 35
x
3.8 Equipment and materials – – – – – – – – 35 3.9 Data Analysis – – – – – – – – – 35
3.1.0 Production Processes – – – – – – – – 36
3.1.1 Dress Pattern – – – – – – – – – 4.6 CHAPTER FOUR: DATA PRESENTATION, DISCUSSION AND ANALYSIS 4.0 Introduction – – – – – – – – – 65 4.1 Data Presentation and Analysis – – – – – – – 65 4.2 Findings – – – – – – – – – – 66 CHAPTER FIVE: SUMMARY, CONCLUSION AND RECOMMENDATIONS 5.0 Introduction. – – – – – – – – – 90 5.1 Summary – – – – – – – – – – 90 5.2 Conclusion of the Study – – – – – – – – 91 5.3 Contribution to knowledge – – – – – – – 92 5.4 Recommendations of the Study – – – – – – – 92 References – – – – – – – – – – 94 Appendix 1 – – – – – – – – – – 98
CHAPTER ONE
INTRODUCTION 1.1 Background of the study Handcraft textiles are the making of decorative and functional clothing objects. This involves the use of hand crafted techniques in the studio and workshops, in schools, small scale and cottage industries either by students or craftsmen. It involves the use of different types of equipment and materials such as looms, embroidery needles, threads, printing ink, fabrics, dyes, scissors, stencils, chemical and so on. Nigeria and Kaduna in particular,contains dynamic people with different historical background, living in different great kingdoms and emirates in the state. These kingdoms and emirates were composed of diverse ethnic groups and cultures which include: Idoma, Yoruba, Adara, Bajju, Igbo, Gbagi, Ham (Jaba), Mada, Tsam (Chawai), Hausa, Ninzo, Atyap and so on. Apparel has been seen as an intimate part of an individual. It is one of the most personal components of daily life, and at the same time, it is an expression of social activities embedded in the cultural patterns within a particular era as noted by Bernard (2009). These are considered from the socio-cultural point of view, which are: the individual body, the cultural set-up of the community to which he or she belongs and the universe at large.First, the individual"s physiological differences with regards to sexes (male and female), determines what to put on the body.
Fashion simply can be referred to also as apparel or style as seen in appearance. It also depicts the manner in which people dress, behave socially or do other things at a given time. It implies
2
that, all items used in covering, decorating the body, found in body arts can be termed as fashion. It reflects the culture of the past and present, illustrating the characteristics of an individual in relation to his society over the centuries. Fashion and apparel cannot be under estimated, in respect to the role of art in the civilization of man. It is one of the essential arts just like painting and sculpture. Apparel and fashion, no matter what form it takes affect the life of everyone, not solely a specification of the population but they serve as an expression of the self at a given point in time and place. This idea of body covering exists among different ethnic groups in Nigeria and the world in general in relation to their culture and art as can be seen in various celebrations found within the communities. It involves decorating and adorning the human body, using different types of materials ranging from body painting to the use of bark cloth, raffia, traditional and modern fabrics. This signifies that, some aspects of fashion are indigenous to some people than the other and form part of their fashion and culture. Apparel and fashion pertaining to the culture and tradition of different ethnic groups in Nigeria are identified by their ways of dressing and expression of beauty concepts. These are affected or influenced by advancement in technology, values, morals, hygiene, rituals, as well as aesthetics and symbolism in cultural patterns. Meanwhile, forms of body covering cannot be said to exist in isolation without external influences. Some external influences seem to have been inculcated into modern Nigeria culture. Apparel and fashion appreciation have always been a necessity with regard to human civilization and as a means of showcasing ones culture and interests. Social status, religious leanings, cultural diversity and professional status can all be amply reflected by ones apparel.
3
Emmanuel (2014) stated that"the garment industry is very dynamic and always growing with new concepts and ideas to keep the "craze" for fashion alive". Innovation and creativity are the hallmark to survival in the industry. The craving for new ideas associated with looking for solution to problems is a trait necessary for ingenuity in the fashion world. Personal creativity must look beyond that which already exist and find new combinations of ideas and materials that can satisfy people"s needs and desires. In today"s world, conscious consumers are looking for apparels of top quality, well-tailored with best versatility and long lasting fashion life. Based on the dynamic nature of human, they oftenwant to be seen in fashionable designs. For this reason adequate knowledge, creativity and skills are developed to enable the production of high quality garments which are based on the multi-disciplined areas of art with special reference to designing and clothing technology. Printing is the process of applying colour to fabric in definite patterns or designs. It is related to dyeing, but, whereas in dyeing, the whole fabric is submerged with one colour or more, in printing only one or more colours can be applied to certain parts of the surface of the fabric in sharply defined patterns. Weaving and Printing are two different techniques but the study manipulated both together for apparel and fashion production. Through the manipulation of hand woven and printed fabrics, the study explored mixed techniques as well as the relationship between weaving and printing.
4
1.2 Statement of the Problem The introduction of modern equipment, materials, ideas and techniques in the area of weaving and printing as well as changes in apparel and fashion needs of Nigerians, have some effects on the traditional and contemporary handcraft weaving and printing in Nigeria in general. The result is that, handcrafted apparel and fashion which is considered along the traditional set-up of the Nigerian society is gradually losing its credibility and identity because of the influence of current foreign clothing and other cultures that have gotten into the society. This results to modified culture. These have engulfed our people especially thereby sidelining the concept of tradition and cultural values in the society. The process of hand weaving and printing can be utilized to reduce the above problem in the loss of cultural heritage and sources of self-employment. The problems of this study therefore, are concerned with the adaptation and practical production of handcrafted woven and printed fabrics and areconverted into apparel for fashion appreciation. 1.3 Aim of the Study The aim of this study was to practically design and produce handcrafted woven and printed fabrics and convert both into apparels and fashion appreciation.
5
1.4 Objectives of the Study.
The objectives of this study are:
i. Checklist materials and tools for hand weaving and printing fabrics toward possible manipulation in design and production of innovative apparels in fashion.
ii. Carry out the practical production based on the design of the handcrafted woven and printed fabrics towards innovation in fashion industry in Nigeria.
iii. Encourage and promote creativity in fashion sector in Nigeria.
iv. Assess the influence of foreign fashion on moral diminution of both the indigenous and contemporary fashion and Nigeriaculturein general and especially on youth of today.
1.5 Research Questions
i. How werethe handcraft weaving and printing materials and tools be identified and collected or sourced in Kaduna state?
ii. How was the handcraft weaving and printing fabricsdesigned, woven, printed and converted into products for apparel and fashion utilization?
iii. In what way was creativity in fashion being encouraged and promoted in Kaduna state?
iv. What are the influence of foreign fashion on moral decrease of both indigenous and contemporary fashion and Nigeria culture in general and youth of today?
6
1.6 Justification As a nation, Nigeria is endowed with raw materials for textile production especially weaving and printing. She is also blessed with energetic and skillful individuals and groups to manipulate them to make various types of textile product. Motivation for embarking on this research arose from the need to promote the cultural heritage, to encourage decent dressing and entrepreneurship through the use of some Nigerian hand crafted textile processes for apparel and fashion. Many talented Nigerians are wasting away in the unemployment market seeking white collar jobs, whereas with little encouragement and right guidance theycan become not only self-employed, but also employers of labour. In this research, the hand woven and printed techniques was practically utilized to design and produce suitable items for apparel and fashion. 1.7 Significance of the Study This study is significant in the sense that, apparel and fashion is growing faster with influences from foreign countries. The use of handcrafted woven and printed fabrics was created as a means to draw the attention of Nigerians to immorality in apparel and fashion that sometimes causes promiscuity. It will also encourage and enlighten people on self-employment and promote the cottage and small scale industries in Nigeria.
This study is significant educationally, socio-culturally, economically and industrially. The educational significance of this study is that the production of handcrafted woven and printed fabrics using the vertical loom and hand printed techniques will provide an added knowledge and skill.This document will also be an additional literature on weaving and printing. Handcrafted woven fabrics have been in existence in the commercial sector for a long time in different
7
varieties, and styles. The study will encourage individuals to be aware and learn methods of producing such fabrics manually to earn their living through practical process. Nigerians are more informed today, than ever before and can take decision on their own towards developing themselves and their country. The Socio-cultural significance of this study will showcase the art of handcrafted woven and printed designs which will bring about the appreciation of the tradition and culture of Nigeria through the apparel products. It will also help the people especially the youths to embrace decency in fashion as a way of preserving the tradition and culture. Also the conversion of handcrafted woven and printed fabric for apparel and fashion products will encourage socio-cultural training of youths and the revival of the production of disappearing traditional woven and printed fabrics even through its production is stressful. According to Maiwada, (2008) "dress is an important component of our daily lives; through clothing individuals establish their social status in the society such as weddings, chieftaincy ceremonies, and funerals where formal and dignified apparels are required". Ahuwan (1994) stated that "the Nigerian culture and traditions are very rich in motifs and design concept", which makes it necessary for the Nigerian designers to exploitthem for the cultural well-being of the country. Isa (1985) observed that "throughout the world, small scale industries have their origin from traditional heritage and occupations which reflect the societal cultural values and believes". The modern textiles industries came from traditional weaving and dyeing cottage industries.
The economic significance is that the product of handcrafted woven and printed fabrics can be used to promote commercial and other economic activities of the people of Kaduna State.
8
Ada(2010) "the promotion of both Nigerian indigenous textiles and dress culture to the world, using tourism venture and vocational scheme can catapult Nigeria into world focus.". The above statement by Ada reiterates the economic significance of the study. Such designs can enrich the pocket likewise provide jobs and generate revenues for the country portraying our tradition. Nigerian designs and motifs, which will satisfy our economic demands and purpose to generate more income for the country. The industrial significance is that, the production of hand woven and hand printed fabrics, could create self-employment and influence people into opening their own handcrafted industry, employ others and to reduce the importation of foreign textiles goods into the country. 1.8 Scope and Delimitation This study is limited to design and production of handcrafted woven and printed fabrics and converted into apparel and fashion products. The study is delimited to Zaria, Kaduna state.
GET THE COMPLETE PROJECT»
Do you need help? Talk to us right now: (+234) 8111770269, 08111770269 (Call/WhatsApp). Email: [email protected]
IF YOU CAN'T FIND YOUR TOPIC, CLICK HERE TO HIRE A WRITER»
Disclaimer: This PDF Material Content is Developed by the copyright owner to Serve as a RESEARCH GUIDE for Students to Conduct Academic Research. You are allowed to use the original PDF Research Material Guide you will receive in the following ways: 1. As a source for additional understanding of the project topic. 2. As a source for ideas for you own academic research work (if properly referenced). 3. For PROPER paraphrasing ( see your school definition of plagiarism and acceptable paraphrase). 4. Direct citing ( if referenced properly). Thank you so much for your respect for the authors copyright. Do you need help? Talk to us right now: (+234) 8111770269, 08111770269 (Call/WhatsApp). Email: [email protected]
Related Current Papers
---

Purchase Detail
Hello, we're glad you stopped by, you can download the complete project materials to this project with Abstract, Chapters 1 – 5, References and Appendix (Questionaire, Charts, etc) for N4000 ($15) only, To pay with Paypal, Bitcoin or Ethereum; please click here to chat us up via Whatsapp.
You can also call 08111770269 or +2348059541956 to place an order or use the whatsapp button below to chat us up.
Bank details are stated below.
Bank: UBA
Account No: 1021412898
Account Name: Starnet Innovations Limited
The Blazingprojects Mobile App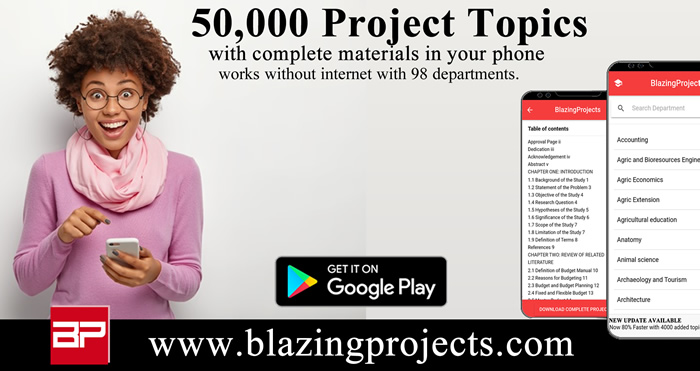 Download and install the Blazingprojects Mobile App from Google Play to enjoy over 50,000 project topics and materials from 73 departments, completely offline (no internet needed) with the project topics updated Monthly, click here to install.