INTRODUCTION
          A family is a group of two or more persons related by blood, marriage or adoption who reside together. There are two main types of family, nuclear and extended family. The nuclear family is the immediate group of father mother and children living together. The extended family includes the nuclear family plus other relatives such as grandparents, uncles and aunts, cousins, and in-laws. The family into which one is born is called the family of orientation, whereas the one established by marriage is the family of procreation. Household is another term frequently used by marketers when describing consumer behavior. Household differs from family, in that household describe all the persons both related and unrelated who occupy a housing unit. Families have higher median incomes than do households because of the greater number of employed individuals in families. For both families and households the four structural variables that impact purchasing decisions most and that are therefore of primary interest to marketers are the age of head of household or family, marital status, presence of children and employment status. However, the way families make decision can be better understood by consulting sociological dimensions such as cohesion, adaptability and communication.
---

Purchase Detail
Hello, we're glad you stopped by, you can download the complete project materials to this project with Abstract, Chapters 1 – 5, References and Appendix (Questionaire, Charts, etc) for N5000 ($15) only,
Please call 08111770269 or +2348059541956 to place an order or use the whatsapp button below to chat us up.
Bank details are stated below.
Bank: UBA
Account No: 1021412898
Account Name: Starnet Innovations Limited
The Blazingprojects Mobile App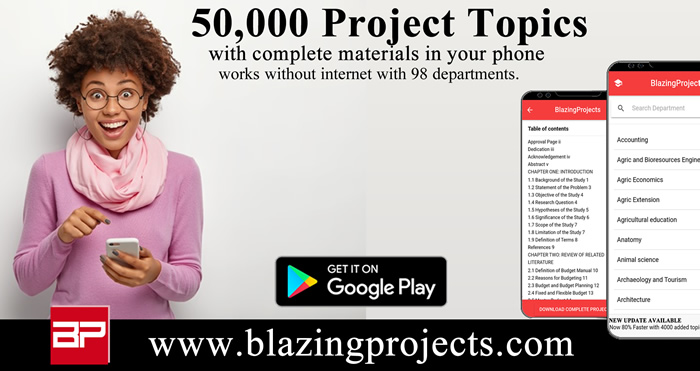 Download and install the Blazingprojects Mobile App from Google Play to enjoy over 50,000 project topics and materials from 73 departments, completely offline (no internet needed) with the project topics updated Monthly, click here to install.