ANTI-INFLAMMATORY AND HEPATOPROTECTIVE EFFECTS OF THE HOMOGENATE OF CUCUMIS SATIVUS (CUCUMBER) FRUITS
ABSTRACT
Research on inflammation has become the focus of global scientific study because of its implication in virtually all human and animal diseases. Also, liver diseases have been on increase and of global concern.Cucumis sativus is believed to have anti-oxidant activity, high flavonoid content, anti-inflammatory and analgesic effect, which may be likely of use in the management of these diseases. The anti-inflammatory and hepatoprotective effects of the homogenate of Cucumis sativus fruit were therefore studied. The fresh fruit of Cucumis sativus was homogenized and used for all experimental analysis without further dilution. Acute toxicity tests of the homogenate of Cucumis sativusfruit were carried out. The phytochemical analyses and proximate compositions of the fruit homogenate were carried out. 1, 1-Diphenyl-2-Picryl Hydrazyl (DPPH) radical scavenging activity of the fruit homogenate was determined. The effects of the fruit homogenate on agar-induced paw oedema in rats were investigated. The effects of the fruit homogenate on liver function enzyme (alanine aminotransferase, aspartate aminotransferase and alkaline phosphatase) activities, total bilirubin concentration and lipid profile (total cholesterol, high density lipoprotein, triacylglycerol and low density lipoprotein concentrations) in rats intoxicated with carbon tetrachloride (CCl4) were evaluated using standard biochemical methods.The effects of the fruit homogenate on hypotonicity-induced haemolysis of RBC, phospholipase A2and prostaglandin synthase activitieswere also studied. Data were analysed using SPSS and two-way ANOVA; the acceptance level of significance was p˂0.05.The qualitative phytochemical tests on the homogenate of Cucumis sativus fruitrevealed the presence of flavonoids, alkaloids, rterpenoids, glycosides, resins, steroids, saponins and tannins. The quantitative phytochemical analysis of the homogenate ofCucumis sativus fruit showed that,reducing sugars (574.36 ± 3.88 mg/g) was highest amount when compared to other phytochemicals, alkaloids (2.22 ± 0.96 mg/g) and flavonoids (2.14 ± 0.56 mg/g) were moderately present while cyanogenic glycoside (0.21 ± 0.13 mg/g) was the lowest in quantity.Proximate analysis showed thatCucumis sativus fruit contained the following – fibre (1.30 ± 0.01%), moisture (94.6 ± 0.08%), protein (3.11 ± 0.07%) and ash (1.07 ± 0.24%)contents. The acute toxicity test showed no toxicity up to 5ml/kg (≡ 5000mg/kg) body weight which indicated the possible safety of the fruit to the users. There was relative increase in the percentage inhibition of DPPH radical scavenging activity with increased amount of the homogenate. At doses of 2ml and 4ml/kg b.w., the fruit homogenate significantly (p ˂ 0.05) inhibitedagar-induced raw paw oedema relative to control. Studies on membrane stabilization using hypotonicity-induced red blood cell haemolysis revealed that the fruit homogenate significantly (p˂0.05)inhibited haemolysis when compared to indomethacin (a known standard drug).The homogenate exhibited a significant (p˂0.05) dose (0.5ml and 1.0ml) related inhibition of prostaglandin synthase activity (79.9% and 81.0% respectively), compared to 0.4mg/ml of indomethacin, standard drug (82.0%). The fruit homogenate like prednisolone significantly (p˂0.05) inhibited phospholipase A2 activity.Treatment of rats with the homogenate of Cucumis sativus fruits significantly (p˂0.05) decreased CCl4-inducedelevated levels of the liver enzymes ALT, AST and ALP and of total bilirubin in the serum when compared to positive control. The homogenate also attenuated the CCl4-induced elevation of LDL, total cholesterol and triacylglycerol amounts and ameliorated the induced depletion of HDL. The results indicated that the homogenate of Cucumis sativus fruits possesses anti-inflammatory activities and hepatoprotective effects.
This Research Project Material is posted with good intentions. if you own it, and believe that your right is infringed or violated, Please send us a mail – [email protected] and actions will be taken immediately. Thank you.
---
Talk to us
Please call 08111770269 or +2348059541956 to place an order or use the whatsapp button below to chat us up.
The complete project material to this project topic costs N5000 ($15) and contains abstract, table of contents, Chapters 1 – 5, references and appendices (questionaire, images, etc). Please pay to:
Bank: UBA
Account No: 1021412898
Account Name: Starnet Innovations Limited
---
The Blazingprojects Mobile App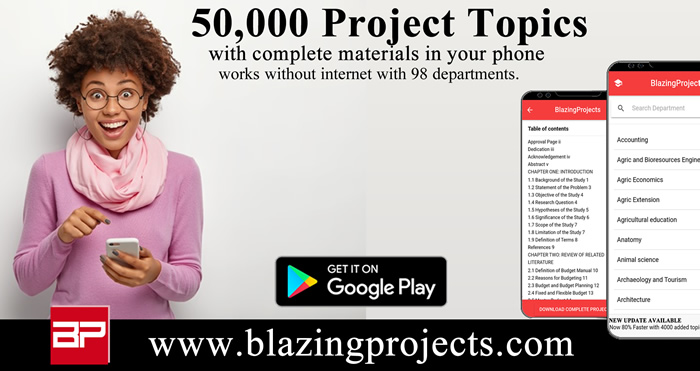 Download and install the Blazingprojects Mobile App from Google Play to enjoy over 50,000 project topics and materials from 73 departments, completely offline (no internet needed) with the project topics updated Monthly, click here to install.
Contains 50,000 project topics.
With complete project materials.
Contains 73 departments.
Completely offline, No internet needed.
Updated Monthly with new project topics & departments.
Easy to navigate and search projects.
Easily shareable via Xender, Bluetooth, etc.
Easy project support from inside the App.
Universities, Polytecnics & Colleges of Education.
INSTALL NOW