BIOCHEMICAL CHARACTERIZATION OF TOXIC CONSTITUENTS OF SEED EXTRACT OF AZADIRACHTA INDICA A. JUSS
ABSTRACT
The toxic constituents of seed extracts of Azadirachta indica A. Juss were isolated and biochemically characterised to elucidate the spectrum of toxicity. The constituents were isolated using toxicity-guided technique. Acute toxicity test established an oral LD50 >5 g/kg in mice. Chronic oral administration of the extracts and fractions significantly (P<0.05) increased the activities of ALP, AST and ALT. The methanol extract (ME) did not cause any significant change in bilirubin concentration. Lower doses (100 and 500 mg/kg) of the extract reduced urea levels whereas higher doses of both extract and fractions caused significant (P<0.05) increase in urea levels. The crude extract and fractions lowered fasting blood sugar and cholesterol concentrations in normal treated rats. The ME caused significant (P<0.05) increase in Na+ concentration and reduction in K+ concentration whereas the concentrations of HCO3- and Cl- remained unchanged throughout the experimental period. The ME also reduced neutrophil count and caused significant (P<0.05) increase in Hb concentration, PCV percentage and lymphocyte count. Lower doses of ME increased platelet count whereas higher doses caused a reduction. With the exception of TN-1 and TN-2, the extract and other fractions significantly (P<0.05) increased the body and organ weights of treated rats. Tissue sections from the liver of ME-treated rats showed uniformly edematous and hepatocyte necrosis with steatosis and portal tract inflammation. Kidney tissues showed edematous necrotic tubules with destruction of basement membrane. Comparison of the magnitude of liver toxicity showed that TN-2 was more toxic than TN-1. TN-1 caused extensive areas of liver cell edema while TN-2 caused hepatic necrosis with extensive severe changes. Structure elucidation revealed TN-1 and TN-2 to be 6-deacetylnimbin and nimbolide respectively.
This Research Project Material is posted with good intentions. if you own it, and believe that your right is infringed or violated, Please send us a mail – [email protected] and actions will be taken immediately. Thank you.
---
Talk to us
Please call 08111770269 or +2348059541956 to place an order or use the whatsapp button below to chat us up.
The complete project material to this project topic costs N5000 ($15) and contains abstract, table of contents, Chapters 1 – 5, references and appendices (questionaire, images, etc). Please pay to:
Bank: UBA
Account No: 1021412898
Account Name: Starnet Innovations Limited
---
The Blazingprojects Mobile App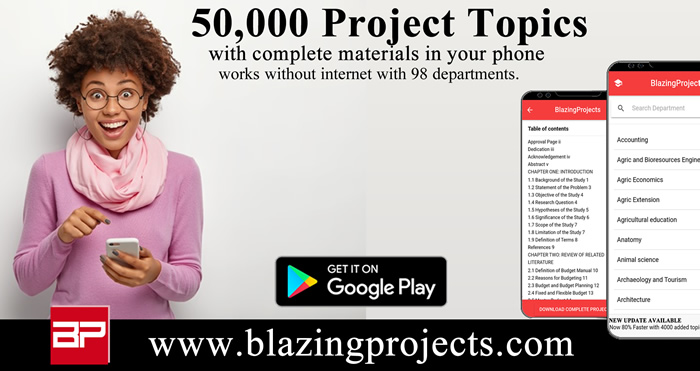 Download and install the Blazingprojects Mobile App from Google Play to enjoy over 50,000 project topics and materials from 73 departments, completely offline (no internet needed) with the project topics updated Monthly, click here to install.
Contains 50,000 project topics.
With complete project materials.
Contains 73 departments.
Completely offline, No internet needed.
Updated Monthly with new project topics & departments.
Easy to navigate and search projects.
Easily shareable via Xender, Bluetooth, etc.
Easy project support from inside the App.
Universities, Polytecnics & Colleges of Education.
INSTALL NOW