COMMUNICATION PRACTICES IN THE MANAGEMENT OF COLLEGES OF EDUCATION IN SOUTH EAST, NIGERIA
ABSTRACT
This study was designed to investigate communication practices in the management of Colleges of Education in South East Nigeria and the strategies that will help enhance the communication practices. Five research questions and three null hypotheses were formulated to guide the study. A descriptive survey research design was adopted. Population of the study was 26,790 respondents. The sample of the study is 1025 respondents. Simple random sampling technique was used to select 5 colleges of education in south east, Nigeria and 1025 respondents comprising 252 academic and non-academic staff and 773 final year students that constitute the sample for the study. Self developed questionnaire with three sections, checklist and interview schedule were used as instruments for data collection. The internal consistency reliability for cluster A was .87, cluster b .79, cluster c .81 and cluster d .82. The reliability co-efficient of the questionnaire instrument was calculated to be 0.82 using Cronbach Alpha formula. For the research questions and three null hypotheses, tested at 0.05 level of significance were used for the study. Mean and standard deviation were used to answer the research questions, qualitative analysis was used to present the interview, and checklist was analyzed with percentages, while t-test statistics was employed to test the hypotheses. The study revealed that modern communication faculties are not available in most of the colleges of education in South East, Nigeria and that the communication practices are utilized at low extent in these colleges. It was also found out that communication practices could be enhanced by constant face-to-face meetings, active listening and transparency.  These strategies are necessary for effective communication in the management of colleges of education. The extent to which college management improves on their communication practice determines the success  or failure of the college management. Based on the findings, recommendations, use of concise language, constant face to face meetings and good communication flow among others were made and suggestions for further studies were given.
This Research Project Material is posted with good intentions. if you own it, and believe that your right is infringed or violated, Please send us a mail – [email protected] and actions will be taken immediately. Thank you.
---
Talk to us
Please call 08111770269 or +2348059541956 to place an order or use the whatsapp button below to chat us up.
---
The Blazingprojects Mobile App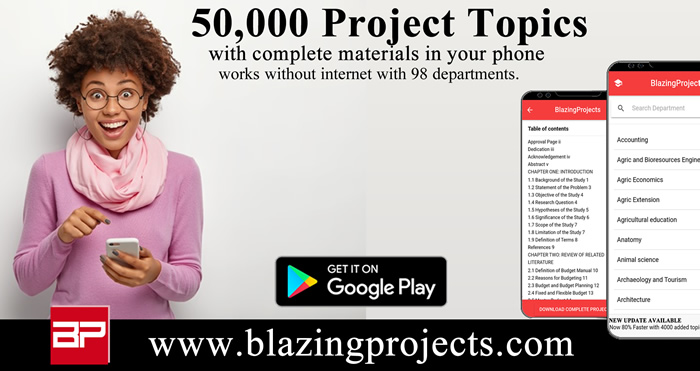 Download and install the Blazingprojects Mobile App from Google Play to enjoy over 50,000 project topics and materials from 73 departments, completely offline (no internet needed) with the project topics updated Monthly, click here to install.
Contains 50,000 project topics.
With complete project materials.
Contains 73 departments.
Completely offline, No internet needed.
Updated Monthly with new project topics & departments.
Easy to navigate and search projects.
Easily shareable via Xender, Bluetooth, etc.
Easy project support from inside the App.
Universities, Polytechnics & Colleges of Education.
INSTALL NOW