CHAPETR ONE
INTRODUCTION 
1.1        Background of the study
1.2        Statement of problem
1.3        Objective of the study
1.4        Research Hypotheses
1.5        Significance of the study
1.6        Scope and limitation of the study
1.7       Definition of terms
1.8       Organization of the study
CHAPETR TWO
2.0   LITERATURE REVIEW
CHAPETR THREE
3.0        Research methodology
3.1    sources of data collection
3.3        Population of the study
3.4        Sampling and sampling distribution
3.5        Validation of research instrument
3.6        Method of data analysis
CHAPTER FOUR
DATA PRESENTATION AND ANALYSIS AND INTERPRETATION
4.1 Introductions
4.2 Data analysis
CHAPTER FIVE
5.1 Introduction
5.2 Summary
5.3 Conclusion
5.4 Recommendation
Appendix
Abstract
Empirical studies have explored the relationship between news gratifications sought and news gratifications obtained in the online media and in the conventional media. Previous studies have rarely compared between the extent to which news gratifications sought are obtanied in the conventional media and the extent to which the news gratifications are sought and obtained in the online media. Through a qualitative approach, this study employs a uses and gratifications approach to compare how news gratifications are sought and obtained in both the online and conventional media
CHAPTER ONE
INTRODUCTION
1.1      Background of the study
More than a century ago, communication between countries involved physical presence. Once, a reporter had to run as fast as possible back to the newsroom after interviewing and tried to beat the competition to print. With the advent of the digital age the role of the journalist changed.
The inception of information communication technology such as the internet has made it possible to find out about events without actually being there. Journalists can report news across the world over the internet.
Throughout history, developments in technology and communication have gone hand-in-hand, and the latest technological developments such as the internet have resulted in the advancement of the science of communication to a new level. The process of human communication has evolved over the years, with many path-breaking inventions and discoveries heralding revolutions. The invention of pictographs or the first written communication in the ancient world brought about written communication. These writings were on stones, and remained immovable. The invention of paper, papyrus and wax, culminating in the invention of the printing press in the 15th century made possible transfer of documents from one place to another, allowing for uniformity of languages over long distances. Lawal, A.T. (2005). The latest revolution is the widespread application of electronic technology such as electronic waves and signals to communicate, manifesting in the electronic creation and transfer of documents over the World Wide Web (www.wikipediacom) Social media which are forms of electronic communication have become the highest activity on the internet. They refer to social networking websites developed to specifically to help people share their views and stay in touch with their friends, relatives and well- wishers. The site was popular for a while but it suffered from technical difficulties and fake profiles and began losing members. Some of those members went to MySpace, which had actually started  in 1999 but became better known in 2003.Its roots are a little muddy because it received financial and logistical support from another company called e-Universe, and most of the early users were e-Universe employees but Tom Anderson and Chris DeWolfe are given credit for much of the innovations and success of the site which built up to 115 million users worldwide. Members post bios, photos, blogs, videos, and other things that strike their fancy, and some Radio programmes to air on MySpace. In 2005, Rupert Murdoch"s News Corporation (parent of Fox Broadcasting) bought MySpace for 580 million dollars. and the other camp comprising of those who believe that the relationship is supplementary and complementary as the old news platforms are still surviving in the news circle. Even as at 2011, the debate was still raging. The lack of clear pattern on the relationship between the old and new news media as news sources was what prompte to recommend that in the study of news consumption, there is need for a shift away from the traditional theoretical and methodological approaches which often treat media features and social practices separately. For instance, uses and gratifications approach to the study of news consumption in both the old and the new media can serve as a better theoretical approach in the effort to get a clearer pattern of the relationship between the old and new media as news outlets because media 'users goals and interests have more concern to them than the media attributes. Media scholars have responded to this challenge by exploring the uses and gratifications of news in the old and new media. explored the motivations for using social media for news among university students and found information seeking, socialising and status seeking to be the motivations of the social media users for sharing news. In their own study of why people use the websites for political information identified guidance, entertainment/social utility, convenience and information (seeking) as motives. While examining how college students get hooked to news, found internet to be one of the media that surveillance gratification is positively correlated with. In their own study, found YouTube users to seek leisure and entertainment gratifications when they watch comedy news video while they seek information gratification in traditional news video. Empirical studies have also explored how old, conventional media are used for news. Information seeking/surveillance and Para-social gratifications have frequently been associated with conventional television news. In his study of media involvement and local news effects, found local news to be primarily linked to information seeking and Para-social gratifications. Similarly, in, Taiwanese news consumers found radio news to be a good source of surveillance gratifications. In some other studies, local radio news provides a mixture of information and entertainment gratifications to viewers. This is because its news reports on such core issues as politics; crime and disasters are often mixed with 'human and local interest stories and newscaster appeal to provide lighthearted respites from hard news. In their own study, found television news to positively relate to only escapism gratifications. News in the printed Newspaper is commonly associated with cognitive needs of the readers while found information seeking and entertainment gratifications to predict the use of radio for news. The conclusion is that news gratifications, relative to the media, are not mutually inclusive. They seem to differ only in degrees.
Similarly, Twitter is an online social networking service and microblogging service that enables its users to send and read text-based messages of up to 140 characters, known as "tweets". Olayinka, S. O. (2014)
1.2       Statement of the Problem
Social media have certainly changed the way journalists work, how stories are developed and disseminated. Social media or online journalism places far more power in the hands of the users allowing the reader to challenge the traditional role of information dissemination. Traditional media have been forced to adopt the new media from wider reach and accessibility. This necessitated the study comparative study of social media and radio stations preference for assessing news among youth
1.3      OBJECTIVE OF THE STUDY
The main objective of the study is to compare the preference for news assessment between social media and radio station among the youth;
But to aid the successful completion of the study, the researcher intends to achieve the following specific objectives;
i)             To ascertain the impact of social media on news reportage
ii)           To examine the effect of social media reporting on the listenership of radio broadcasting
iii)          To ascertain if there is any relationship between social media reporting and radio reportage
iv)         To examine the role of social media in restructuring news reporting in Nigeria
1.4      RESEARCH HYPOTHESES
H0: social media does not have any significant impact on news reportage in Nigeria
H1: social media does have a significant impact on news reportage in Nigeria
H02: there is no significant relationship between social media reporting and radio reportage
H2: there is a significant relationship between social media reporting and radio reportage
1.5      SIGNIFICANCE OF THE STUDY
Fundamentally, it is essential we understand current usage and behaviour and identify potential problems so that they can bead dressed. This can be seen in the amount of academic studies on social media within the last seven years. However, Danah Boyd has gathered a collection of research about social networking sites that lists approximately one hundred and fifty research papers, three books, and seven research reports published in the years 2003-2010. (Boyd, 2010) None of these papers covers Africa. This shows a lack of research that concerns the African region and especially Nigeria where this form of media is greatly used.    Therefore the overall motivation for conducting this study is to contribute to research about social media in Nigeria. This research should also create a platform for further research in this field and how it affects business processes as well other spheres of life. This research should provide useful data for market researchers, marketing and product development professionals as well as educators as to how they can maximize social media for optimum benefit in their various fields.
1.6      SCOPE AND LIMITATION OF THE STUDY
The scope of the study covers comparative study of social media and radio station preference for assessing news among youth. In the cause of the study, there were some factors which limited the scope of the study;
Although this study has accomplished the purpose, which is set out to achieve, one of the very limitations is that the validity of the results or findings is depending on the honest of the respondents in providing the needed information.
Due to constraints of time and money, it is difficult to carry out the research extensively. This led to the limiting of the scope.
Cognizance was also taken to the fact that the academic calendar was too short and academic workload was enormous, as a result of this, no time to run around for the work.
1.7      OPERATIONAL DEFINITION OF TERMS
Social Media: A group of internet-based applications that build on the ideological and technological foundations of web 2.0 and that allow the creation and exchange of user-generated content. (Kaplan and Haenlein, 2010).
Social Skills: Any skills facilitating interaction and communication with others. Social rules and relations are created, communicated and changed in verbal and nonverbal ways through a process called socialization.
Cyberspace: This is the electronic medium of computer networks, in which online communication takes place.
Blogs: A blog (a contraction of the term "web log") is a type of website, usually maintained by an individual with regular entries of commentary, descriptions of events, or other material such as graphics or video. Entries are commonly displayed in reverse-chronological order
Radio station
A radio station is a set of equipment necessary to carry on communication via radio waves.
Generally, it is a receiver or transmitter, an antenna, and some smaller additional equipment necessary to operate them
1.8 ORGANIZATION OF THE STUDY
This research work is organized in five chapters, for easy understanding, as follows Chapter one is concern with the introduction, which consist of the (overview, of the study), statement of problem, objectives of the study, research question, significance or the study, research methodology, definition of terms and historical background of the study. Chapter two highlight the theoretical framework on which the study is based, thus the review of related literature. Chapter three deals on the research design and methodology adopted in the study. Chapter four concentrate on the data collection and analysis and presentation of finding.  Chapter five gives summary, conclusion, and recommendations made of the study.
GET THE COMPLETE PROJECT»
Do you need help? Talk to us right now: (+234) 8111770269, 08111770269 (Call/WhatsApp). Email: [email protected]
IF YOU CAN'T FIND YOUR TOPIC, CLICK HERE TO HIRE A WRITER»
Disclaimer: This PDF Material Content is Developed by the copyright owner to Serve as a RESEARCH GUIDE for Students to Conduct Academic Research. You are allowed to use the original PDF Research Material Guide you will receive in the following ways: 1. As a source for additional understanding of the project topic. 2. As a source for ideas for you own academic research work (if properly referenced). 3. For PROPER paraphrasing ( see your school definition of plagiarism and acceptable paraphrase). 4. Direct citing ( if referenced properly). Thank you so much for your respect for the authors copyright. Do you need help? Talk to us right now: (+234) 8111770269, 08111770269 (Call/WhatsApp). Email: [email protected]
Related Current Research Articles
---

Purchase Detail
Hello, we're glad you stopped by, you can download the complete project materials to this project with Abstract, Chapters 1 – 5, References and Appendix (Questionaire, Charts, etc) for N4000 ($15) only, To pay with Paypal, Bitcoin or Ethereum; please click here to chat us up via Whatsapp.
You can also call 08111770269 or +2348059541956 to place an order or use the whatsapp button below to chat us up.
Bank details are stated below.
Bank: UBA
Account No: 1021412898
Account Name: Starnet Innovations Limited
The Blazingprojects Mobile App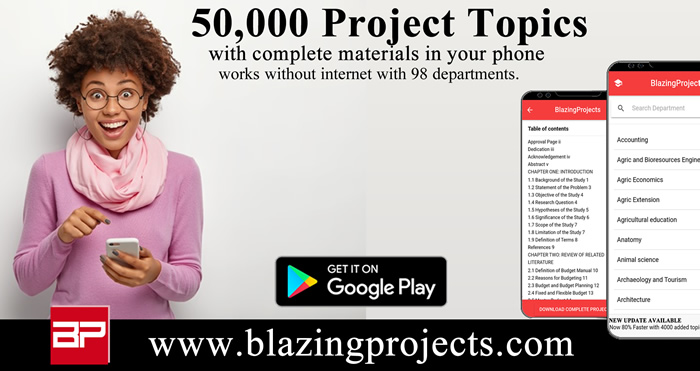 Download and install the Blazingprojects Mobile App from Google Play to enjoy over 50,000 project topics and materials from 73 departments, completely offline (no internet needed) with the project topics updated Monthly, click here to install.