CONSTRUCTION OF 200W UNINTERRUPTIBLE POWER SUPPLY

By
ENEH JOHN. U. EE/H2003/015
Presented To
Department of Electrical/Electronic Engineering
ABSTRACT
The general objective of the system is to provide efficiency in the use of power suppliances by ensuring continuous availability of power supply in the absence of NEPA. Uninterruptability of the system made it possible to eliminate all suspense arising from NEPA outage during the execution of an important and urgent assignment requiring 
  The use of power especially with computer PC system. The fundamentals purpose of a UPS is to provide an interrupted source of power for the equipment it protects.
For better production of the system it is advisable to operate the system of a fully charged condition of the battery. Also the problem due to excessive heating could be eliminated by the use of a hat sink with a thick and a large surface area for sufficient absorption of heat. This project is rated 200W of 220V and 50H2. It is expected at all condition favourable to carry load of higher power factor of the approximation of the power stated. Loads of low power factor are always not helpful overloading is not potent to provide zero changeover time and has audio helper which indicates mains fail and battery discharge. It provides 100% protection against live noise, swages all radio frequency interference.
TABLE OF CONTENT
Title Page
Certification
Dedication
Table of Contents
Chapter One
1.0 Introduction
1.1 Background
1.2 Aims
1.3 Scope
1.4 Definition
Chapter Two
Complete Circuit Description
2.0 Simplified block diagram of thee 3-way intercom system
2.1 Operation Principles
2.2 Conversion
2.3 Inversion
2.4 Power Source
2.5 Oscillator
Chapter Three
3.0 Construction
3.1 Circuit Diagram
3.2 Component and Key Symbol
3.3 Sequence of Operation
3.4 Testing and Result
Chapter Four
4.0 Observation
4.1 Summary
4.2 Suggestion
4.3 Explanation of the Switching Circuit
4.4 Conclusion
4.5 Reference
---

Purchase Detail
Hello, we're glad you stopped by, you can download the complete project materials to this project with Abstract, Chapters 1 – 5, References and Appendix (Questionaire, Charts, etc) for N5000 ($15) only,
Please call 08111770269 or +2348059541956 to place an order or use the whatsapp button below to chat us up.
Bank details are stated below.
Bank: UBA
Account No: 1021412898
Account Name: Starnet Innovations Limited
The Blazingprojects Mobile App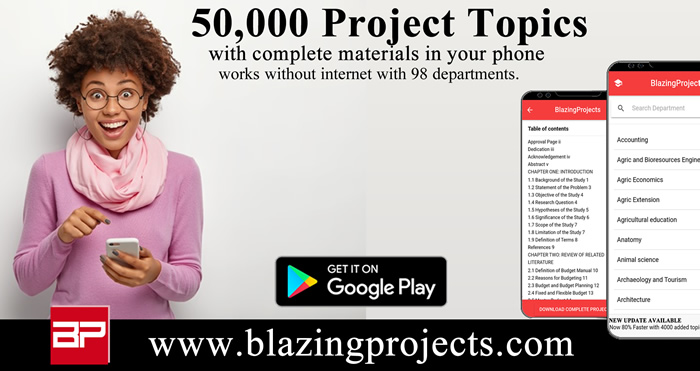 Download and install the Blazingprojects Mobile App from Google Play to enjoy over 50,000 project topics and materials from 73 departments, completely offline (no internet needed) with the project topics updated Monthly, click here to install.