DESIGN AND CONSTRUCTION OF A TWO LANE TRAFFIC LIGHT

By
ASIMOLE CHIGOZIE EE/N2003/241
Presented To
Department of Electrical/Electronic Engineering
ABSTRACT
The project work is on the design and construction of automatic two lane traffic light control.
This system is based on digital electronics.  It employs an astable multivibrator which is the clock generator that sends  the clock into a time sequencing generator using a decade counter with ten (10) decodes output that has it's binary corded decimal (BCD) output into a diode or gate that sends logical data's into a transistor switching circuit that switches the lamps that raises traffic signals on the two lane junction. 
TABLE OF CONTENTS
COVER PAGE
TITLE PAGE
APPROVAL PAGE
DEDICATION
ACKNOWELDGEMENT
ABSTRACT
CHAPTER ONE
INTRODUCTION
1.1 GENERAL DESCRIPTION OF THE PROJECT
1.2 DESIGN OBJECTIVE
1.3 SIGNIFICANCE OF THE PROJECT
CHAPTER TWO
LITERATURE REVIEW
2.1 HISTORICAL BACKGROUND OF THE PROJECT
2.2 THEORIES AND MODELS RELEVANT TO THE DESIGN 
2.3 LIST AND DESCRIPTION OF THE SYSTEM COMPONENT
CHAPTER THREE
SYSTEM DESIGN
3.1 DESCRIPTION OF THE SYSTEM BUILDING BLOCK
3.2 SYSTEM DESIGN SPECIFICATION
3.3 BLOCK DIAGRAM OF THE SYSTEM
3.4 DESCRIPTION OF THE OVERALL OPERATION OF THE SYSTEM
3.5 COMPONENT LIST
3.6 COMPLETE CIRCUIT DIAGRAM OF A TWO LANE TRAFFIC LIGHT CONTROL
CHAPTER FOUR
4.1 IMPLEMENTATION, TESTING AND RESULTS
CHAPTER FIVE
5.1 COST OF ANALYSIS, CONCLUSION AND RECOMMENDATION 
REFERENCES
---

Purchase Detail
Hello, we're glad you stopped by, you can download the complete project materials to this project with Abstract, Chapters 1 – 5, References and Appendix (Questionaire, Charts, etc) for N5000 ($15) only,
Please call 08111770269 or +2348059541956 to place an order or use the whatsapp button below to chat us up.
Bank details are stated below.
Bank: UBA
Account No: 1021412898
Account Name: Starnet Innovations Limited
The Blazingprojects Mobile App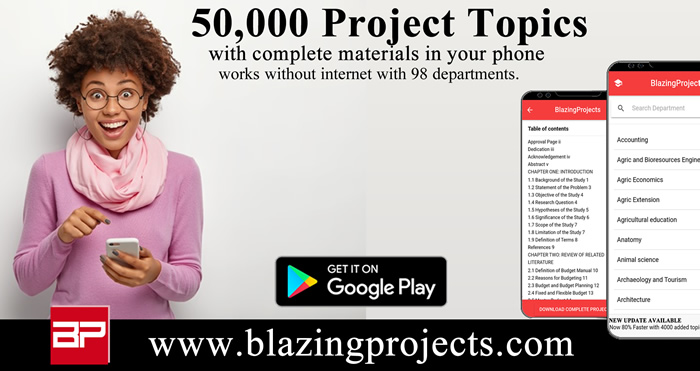 Download and install the Blazingprojects Mobile App from Google Play to enjoy over 50,000 project topics and materials from 73 departments, completely offline (no internet needed) with the project topics updated Monthly, click here to install.