DESIGN AND CONSTRUCTION OF BATTERY CHARGER

By
EMEFIENE EMMANUEL EE/H2003/026
Presented To
Department of Electrical/Electronic Engineering
ABSTRACT
This project which consists of four chapters deals extensively with the design and construction of a battery charger which is capable charging a 12 volts, battery.
The first chapter which is the introductory chapter goes a long way in defining the battery charger and explaining of the mode of operation.
The second chapter went further to explain each component part of the battery charger. This ranges from:-
1. The transformer 
2. The rectifier circuit
3. The filtering stage
4. Voltage regulation
5. Comparator 
6. Thyristor
7. Resistor
8. Diode
9. Relay
10. Zener diode and
11. Light emitting diode (LED)
The third chapter explains more about the Testing Sensing and switching processes in the charger. It also gave the list of components and the circuit diagram of the battery charger.
The concluding chapter being fourth, tells us more about the circuit arrangements and the construction of casing and finally the overall cost analysis.
TABLE OF CONTENT
Title page
Approval page
Dedication
Acknowledgement
Abstract
CHAPTER ONE
1.1 Introduction
CHAPTER TWO
2.1 Block Diagram of Battery Charger
2.2 Transformer
2.3 AC to DC Converter
2.4 Filtering
2.5 Voltage Regulation
2.6 Comparator
2.7 Thyristor
2.8 Resistor
2.9 Diode
2.10 Relay
2.11 Zener Diode
CHAPTER THREE
3.1 Network Synthesis and Testing
3.2 Power Supply
3.3 Sensing and Switching Circuit
3.4 Battery Condition Test
3.5 List of Component Values
CHAPTER FOUR
4.1 Conclusion
4.2 Cost Analysis
4.3 Bibliography
---

Purchase Detail
Hello, we're glad you stopped by, you can download the complete project materials to this project with Abstract, Chapters 1 – 5, References and Appendix (Questionaire, Charts, etc) for N5000 ($15) only,
Please call 08111770269 or +2348059541956 to place an order or use the whatsapp button below to chat us up.
Bank details are stated below.
Bank: UBA
Account No: 1021412898
Account Name: Starnet Innovations Limited
The Blazingprojects Mobile App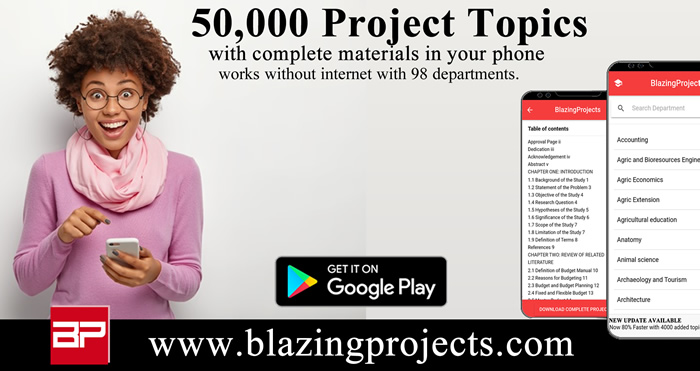 Download and install the Blazingprojects Mobile App from Google Play to enjoy over 50,000 project topics and materials from 73 departments, completely offline (no internet needed) with the project topics updated Monthly, click here to install.