DESIGN AND CONSTRUCTION OF POWER AMPLIFIER

By
EE/N2003/131
Presented To
Department of Electrical/Electronic Engineering
PREFACE
The aim of this project is to construct power amplifier.  The system is expected to amplify.  The major components in the circuit is the integrated circuit (IC JRE with some circuit elements for the normal operation of the circuit.  So as to amplifier an output, the general construction dealt with in the chapters.
The levels of treatments presuppose a detailed knowledge of electronics and basic electric circuit such as for part of most technical institute.  The report should be value to students reading electrical electronics engineering.
LIST OF SYMBOL AND ABBREVIATIONS
A – (Ampere) Unit of current
B – (Found) Unit of Capacitor
HZ – (Hertz) Unit of Frequency
IC – (Integrated circuit clup
K – Kilo 1 x 103
M – Milli 1 x 10-3
U – Micro 1 x 10-6
n – Nano 1 x 10-12
 – (ohms) Unit of Resistance
V – (Volts) Unit of voltage
TABLE OF CONTENTS
TITLE PAGE
APPROVAL PAGE
DEDICATION
ACKNOWLEDGEMENT
PREFACE
LIST OF SYMBOLS AND ABBREVIATION 
TABLE OF CONTENTS
CHAPTER ONE
1.0 INTRODUCTION
1.1 GENERAL DESCRIPTION
1.2 INTERNAL AND EXTERNAL FEATURE
1.3 SEQUENCES OF OPERATION
CHAPTER TWO
2.0 DESCRIPTION OF AUDIO PRE-AMPLIFIER 
2.1 CHARACTERISTIC OF AUDIO PRE-AMPLIFIER
2.2 THE CONTROL STATE
CHAPTER THREE
3.0 DESCRIPTION OF (IC) INTEGRATED CIRCUIT
3.1 ELECTRICAL CHARACTERISTICS
3.2 APPLICATION OF INTEGRATED CIRCUIT 
CHAPTER FOUR
4.0 POWER SUPPLY
CHAPTER FIVE
5.0 DESCRIPTION OF GENERAL AMPLIFIES
5.1 CLASSIFICATION OF AMPLIFIERS
5.2 EFFICIENCY AND APPLICATIONS
5.3 FINDINGS AND RECOMMENDATIONS
5.4 CONCLUSION
REFERENCES
---

Purchase Detail
Hello, we're glad you stopped by, you can download the complete project materials to this project with Abstract, Chapters 1 – 5, References and Appendix (Questionaire, Charts, etc) for N5000 ($15) only,
Please call 08111770269 or +2348059541956 to place an order or use the whatsapp button below to chat us up.
Bank details are stated below.
Bank: UBA
Account No: 1021412898
Account Name: Starnet Innovations Limited
The Blazingprojects Mobile App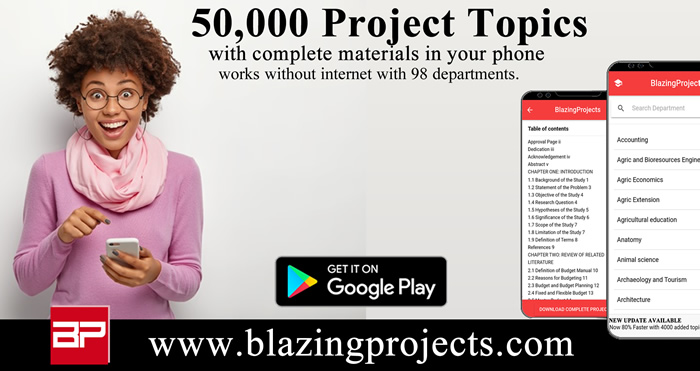 Download and install the Blazingprojects Mobile App from Google Play to enjoy over 50,000 project topics and materials from 73 departments, completely offline (no internet needed) with the project topics updated Monthly, click here to install.