The modern managers need problem identification and adequate information in these complex conditions of business in order to stay in the market and also to make viable decisions.  These information are mostly gathered from effective and efficient research project and it is in these that the decisions are based.
In other words, this project research is aimed at giving such vital information that will aid the management of Macons bread to know their distribution effectiveness and factors influencing their distribution effectiveness.
The researcher made use of primary and secondary data.  Primary data used include interviews and observation, the researcher specifically interviewed the managing director, production manger, and the sales man.  While secondary data is on library sources as tools for gathering the data.
It is  found out from the study, that the macons bread or the company are making use of delivery van to distribute their product to some places.  The distributions are not supervised and communication facilities are poor, due to the poor transportation.
Major recommendation include government repair of roads to improve transport system of establishment supervision and distribution by the company sales man.
The company should arrange for training, for itself and public relation manager would improve the promotion on their product.
Title Page                                ii
Approval page                            iii
Dedication                                iv
Acknowledgement                            v
Abstract                                vii
Table of content                            ix
CHAPTER ONE
Introduction                                1
1.1    Background of the Study                    1
1.2    Statement of Problem                    4
1.3    Objectives of the Study                    4
1.4    Significance of the Study                    5
1.5    Scope or Limitation of the Study            6
1.6    Definition of Terms                    7
CHAPTER  TWO
2.0    Review of related literature                9
2.1    An Overview of Distribution in Nigeria        9
2.2    Determining Channel Selection of Bread        12
2.3    Physical Distribution                    13
2.4    Available Bread Distribution Channel            14
2.5    Problems of Distribution                    16
2.6    Distribution Cost                        18
CHAPTER THREE
3.0    Methodology                        20
3.1    Sources of Data                        20
3.2    Method of Investigation                    22
CHAPTER FOUR
4.0    Analysis Presentation and Interpretation of Data    24
CHAPTER FIVE
5.1    Recommendation                        31
5.2    Conclusion                            32
Bibliography                                34   
GET THE COMPLETE PROJECT»
Do you need help? Talk to us right now: (+234) 8111770269, 08111770269 (Call/WhatsApp). Email: [email protected]
IF YOU CAN'T FIND YOUR TOPIC, CLICK HERE TO HIRE A WRITER»
Disclaimer: This PDF Material Content is Developed by the copyright owner to Serve as a RESEARCH GUIDE for Students to Conduct Academic Research. You are allowed to use the original PDF Research Material Guide you will receive in the following ways: 1. As a source for additional understanding of the project topic. 2. As a source for ideas for you own academic research work (if properly referenced). 3. For PROPER paraphrasing ( see your school definition of plagiarism and acceptable paraphrase). 4. Direct citing ( if referenced properly). Thank you so much for your respect for the authors copyright. Do you need help? Talk to us right now: (+234) 8111770269, 08111770269 (Call/WhatsApp). Email: [email protected]
Related Current Research Articles
---

Purchase Detail
Hello, we're glad you stopped by, you can download the complete project materials to this project with Abstract, Chapters 1 – 5, References and Appendix (Questionaire, Charts, etc) for N4000 ($15) only, To pay with Paypal, Bitcoin or Ethereum; please click here to chat us up via Whatsapp.
You can also call 08111770269 or +2348059541956 to place an order or use the whatsapp button below to chat us up.
Bank details are stated below.
Bank: UBA
Account No: 1021412898
Account Name: Starnet Innovations Limited
The Blazingprojects Mobile App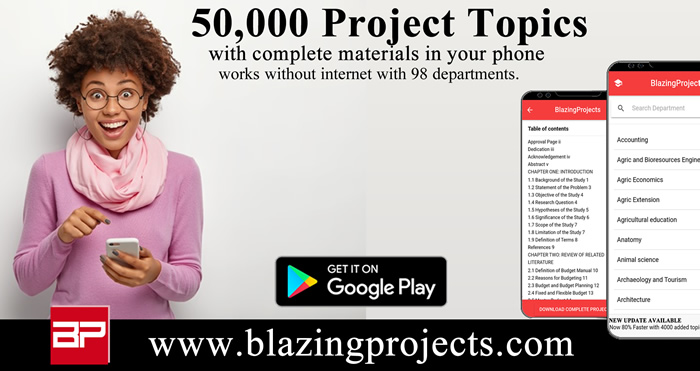 Download and install the Blazingprojects Mobile App from Google Play to enjoy over 50,000 project topics and materials from 73 departments, completely offline (no internet needed) with the project topics updated Monthly, click here to install.