Abstract
Drama otherwise known as movie has been part and parcel of our society and is one of the instruments for national mobilization, education and development because of its communication strength and simplicity, no wonder it was employed at the emergency of ebola virus in Port Harcourt. The core objective of the research is to study the effectiveness of drama in preventing the spread of ebola virus in the area and other South in Nigeria. Survey research method was adopted and 200 respondents were drawn using purposive sampling technique. However, from the findings, it shows that people watch drama deliberately packaged to create awareness about ebola, how it spread and some of the symptoms.  It was also admitted that drama, soap opera, and other forms of television drama play crucial role in preventing the spread and tensions earlier generated about the deathly nature of the virus 193 copies of the administered questionnaire were returned for analysis. It is recommended that media planners and film writers etc should not relent while such approach should be used for other health related matters like cancer, malaria, etc.
GET THE COMPLETE PROJECT»
Do you need help? Talk to us right now: (+234) 8111770269, 08111770269 (Call/WhatsApp). Email: [email protected]
IF YOU CAN'T FIND YOUR TOPIC, CLICK HERE TO HIRE A WRITER»
Disclaimer: This PDF Material Content is Developed by the copyright owner to Serve as a RESEARCH GUIDE for Students to Conduct Academic Research. You are allowed to use the original PDF Research Material Guide you will receive in the following ways: 1. As a source for additional understanding of the project topic. 2. As a source for ideas for you own academic research work (if properly referenced). 3. For PROPER paraphrasing ( see your school definition of plagiarism and acceptable paraphrase). 4. Direct citing ( if referenced properly). Thank you so much for your respect for the authors copyright. Do you need help? Talk to us right now: (+234) 8111770269, 08111770269 (Call/WhatsApp). Email: [email protected]
Related Current Research Articles
---

Purchase Detail
Hello, we're glad you stopped by, you can download the complete project materials to this project with Abstract, Chapters 1 – 5, References and Appendix (Questionaire, Charts, etc) for N4000 ($15) only, To pay with Paypal, Bitcoin or Ethereum; please click here to chat us up via Whatsapp.
You can also call 08111770269 or +2348059541956 to place an order or use the whatsapp button below to chat us up.
Bank details are stated below.
Bank: UBA
Account No: 1021412898
Account Name: Starnet Innovations Limited
The Blazingprojects Mobile App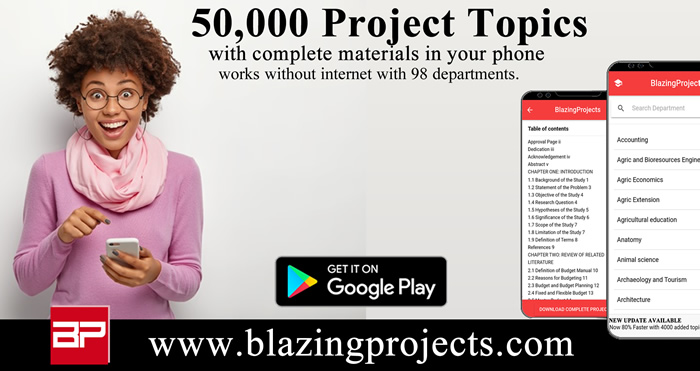 Download and install the Blazingprojects Mobile App from Google Play to enjoy over 50,000 project topics and materials from 73 departments, completely offline (no internet needed) with the project topics updated Monthly, click here to install.