ABSTRACT
This study probes the effect which foreign TV has on the cultural values of the Nigeria youths particularly students. The research posits that the current trends in cultural behaviour of youths in Nigeria as observed among student of Osun State Polytechnic, Iree is significantly associated with their perception of western culture and exposure to western Tv programmes. The assumption that foreign media content has direct powerful effects is shared by optimistic modernization theory, cultivation theory and cultural imperialism theory. Questionnaire was designed to collect data by using of survey research method, while respondents were selected using multi-stage sampling technique to draw. The data collected were analysed and interpreted using descriptive statistics (frequency percentage and tables). Finings show that many of the respondents spend 4-10 hours watching television programmes and larger percentage of the respondents watch television programmes daily with the highest of them enjoy drama programmes, also, many of the respondents still prefer local television stations than foreign television stations because local stations full of local materials, it enhances local ideas and improves cultural values of Nigeria. The paper recommends that the media managers and practitioners as gate-keepers must develop a Nigerian cultural inclination and consciousness that will allow for the production of programmes reflecting the Nigerian idiom, develop its own television rhetoric and creative ability.
GET THE COMPLETE PROJECT»
Do you need help? Talk to us right now: (+234) 8111770269, 08111770269 (Call/WhatsApp). Email: [email protected]
IF YOU CAN'T FIND YOUR TOPIC, CLICK HERE TO HIRE A WRITER»
Disclaimer: This PDF Material Content is Developed by the copyright owner to Serve as a RESEARCH GUIDE for Students to Conduct Academic Research. You are allowed to use the original PDF Research Material Guide you will receive in the following ways: 1. As a source for additional understanding of the project topic. 2. As a source for ideas for you own academic research work (if properly referenced). 3. For PROPER paraphrasing ( see your school definition of plagiarism and acceptable paraphrase). 4. Direct citing ( if referenced properly). Thank you so much for your respect for the authors copyright. Do you need help? Talk to us right now: (+234) 8111770269, 08111770269 (Call/WhatsApp). Email: [email protected]
Related Current Research Articles
---

Purchase Detail
Hello, we're glad you stopped by, you can download the complete project materials to this project with Abstract, Chapters 1 – 5, References and Appendix (Questionaire, Charts, etc) for N4000 ($15) only, To pay with Paypal, Bitcoin or Ethereum; please click here to chat us up via Whatsapp.
You can also call 08111770269 or +2348059541956 to place an order or use the whatsapp button below to chat us up.
Bank details are stated below.
Bank: UBA
Account No: 1021412898
Account Name: Starnet Innovations Limited
The Blazingprojects Mobile App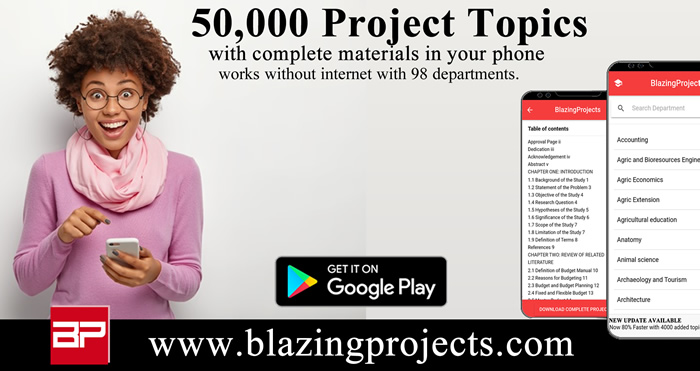 Download and install the Blazingprojects Mobile App from Google Play to enjoy over 50,000 project topics and materials from 73 departments, completely offline (no internet needed) with the project topics updated Monthly, click here to install.