INTRODUCTION
An abundance of research has shown that large transactional distance between geographically dispersed learners and supporting staff in Open and Distance learning institutions contribute to students' feelings of isolation, low self efficacy and reduced level of motivation which culminates to poor academic performance. This study, therefore, examined the impact of Rational Emotive Behaviour Therapy (REBT) in fostering self-efficacy amongst academically at-risk learners in National Open University of Nigeria (NOUN). A pre-test and post-test control group quasi experimental design with 2x2x2x2 factorial matrix was adopted for the study. Stratified random and Probability Proportional to Size sampling techniques (PPS) were used to draw one hundred and thirty-five respondents (Males=68; Females=67) with age  range of between 22 and 51 years ( x =16.17; SD=1.01) from first-year NOUN undergraduates in South West geopolitical zone of Nigeria.
The experimental group was treated with nine sessions of one and half hour using REBT, while the control group was not treated. General SelfEfficacy (GSE) scale (r=0.81) was the outcome measure. Analysis of Covariance and t-test for independent samples were used to test the four null hypotheses at 0.05 alphas. The findings revealed that REBT was effective in fostering self-efficacy in the treated group (F (1,130) = 54.11, P
GET THE COMPLETE PROJECT»
Do you need help? Talk to us right now: (+234) 8111770269, 08111770269 (Call/WhatsApp). Email: [email protected]
IF YOU CAN'T FIND YOUR TOPIC, CLICK HERE TO HIRE A WRITER»
Disclaimer: This PDF Material Content is Developed by the copyright owner to Serve as a RESEARCH GUIDE for Students to Conduct Academic Research. You are allowed to use the original PDF Research Material Guide you will receive in the following ways: 1. As a source for additional understanding of the project topic. 2. As a source for ideas for you own academic research work (if properly referenced). 3. For PROPER paraphrasing ( see your school definition of plagiarism and acceptable paraphrase). 4. Direct citing ( if referenced properly). Thank you so much for your respect for the authors copyright. Do you need help? Talk to us right now: (+234) 8111770269, 08111770269 (Call/WhatsApp). Email: [email protected]
Related Current Papers
---

Purchase Detail
Hello, we're glad you stopped by, you can download the complete project materials to this project with Abstract, Chapters 1 – 5, References and Appendix (Questionaire, Charts, etc) for N4000 ($15) only, To pay with Paypal, Bitcoin or Ethereum; please click here to chat us up via Whatsapp.
You can also call 08111770269 or +2348059541956 to place an order or use the whatsapp button below to chat us up.
Bank details are stated below.
Bank: UBA
Account No: 1021412898
Account Name: Starnet Innovations Limited
The Blazingprojects Mobile App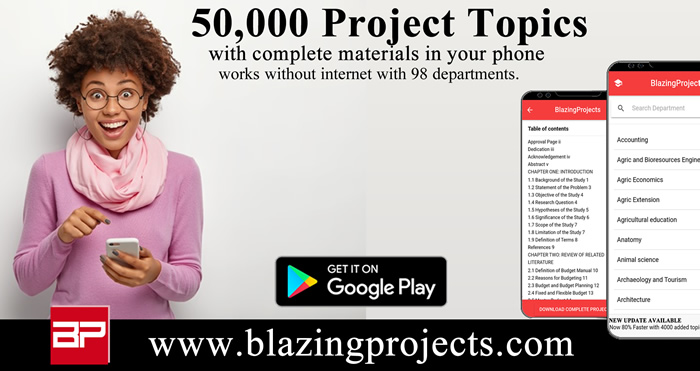 Download and install the Blazingprojects Mobile App from Google Play to enjoy over 50,000 project topics and materials from 73 departments, completely offline (no internet needed) with the project topics updated Monthly, click here to install.