ABSTRACT
This research work is a careful study of effects of water on residential property prices in Owerri capital city of Imo state. The work was a handiwork of thorough and detailed fact finding task about water supply embarked upon by the researcher as is portrayed in various chapters and sections of this report.
This work therefore tends to disclose the impact of water to many Nigerian citizens with direct reference to residential property prices of infrastructures in Owerri the capital city of Imo State.
There existed great disparity in the prices of properties with very good sources of water supply and those without, leading to unnecessary social strata definitionamongst the citizens as the rich who could afford the pleasure does so while the poor masses are left to wallow in scarcely furnished residential structures and poor water supply condition coupled with untold hardship.Also revealed in this studywas the inability of the state government to conclude the MDG water project in the state for very long time which would have minimized the suffering of the people. The masses who this report gathered to be consistent to reasonable extent in paying their taxes preferred the government to provide better social facilities with their public fund instead of allowing them to cater for their needs themselves. The government in conclusion were urged to harness other alternative sources of water supplies available to the masses like the bore-holes, rain and stream waters and put them in better conditions so as to prevent the sharp gap created between the well to do and the poor who cannot afford the pleasure of expensive residential properties with convenient water supply sources.
In the course of the research, many existing articles, journals, periodicals and statistical records were gathered from reliable sources and used in the compilation process. The researcher also made use of primary data collected through interviews and questionnaires. The structured questionnaire which was captioned "Effect of Water on Residential Property Prices In Owerri Capital City of Imo State, Nigeria – Questionnaire (EOWORPPIOCCISNQ) was distributed to both (senior and junior) staffs in Imo state ministry of water resources and tenants living in the Owerri metropolis amounting to 92 final sample size gotten from a sample population of 220 people chosen by the researcher.
Data collected were presented and analysed with the help of the 2 hypotheses and research questions contained in the work. The sample size was determined using the Yaro Yamani statistical tool while the hypotheses were tested with the Chi- square (X2) method of analysis.
Just as every good work would never come so easy, there also existed several challenges that in one way or the other constrained the researcher from producing a totally constraint-free research report. Like every other post graduate student, severe academic and work demands competed for limited time available for carrying out this research work. Meanwhile official laxity or bureaucratic bottlenecks better put severally reared its ugly head as the researcher never got any needed assistance or information from Imo state ministry of water resources without passing through unnecessary delays and postponements. Unforgettably, limited finance almost quenched the processes of this research as the researcher had to extend his tentacles far and wide to source information and materials on the research topic as very scanty or none existed prior to this work.
Summary, recommendation and conclusion were clearly stated at the final chapter of this work, they were arrived at based on the findings and analysis of data and facts gotten from chapters three and four respectively.
TABLE OF CONTENTS
COVER PAGE
TITLE PAGE
CERTIFICATION
DEDICATION
ACKNOWLEDGEMENT
ABSTRACT
CHAPTER ONE
INTRODUCTION
1.1BACKGROUND OF THE STUDY
1.2STATEMENT OF THE PROBLEM
1.3PURPOSE OF THE STUDY
1.4SCOPE OF THE STUDY
1.5SIGINIFICANCE OF THE STUDY
1.6RESEARCH QUESTIONS
1.7HYPOTHESES
1.8LOCATION
1.9DEFINITION OF TERMS
CHAPTER TWO
LITERATURE REVIEW
2.1INTRODUCTION
2.2CONCEPTUAL/THEORETICAL FRAMEWORK
HISTORICAL SURVEY
2.3EMPIRICAL FRAMEWORK
2.4RESIDENTIAL PROPERTIES IN AFRICA AND DEVELOPING COUNTRIES
2.4.1 DETERMINANTS OF RENT AND RESIDENTIAL PROPERTY PRICES
2.5 MAINTENANCE AND MANAGEMENT OF STATUS OF WATER FACILITIES
2.5.1 MAINTENANCE AND MANAGEMENT OF STATUS OF WATER FACILITIES TOWARDS ACHIEVING PURE WATER SUPPLY IN OWERRI
2.5.2PLANNING WATER SUPPLY SYSTEM:
2.6 FACTORS RESPONSIBLE FOR WATER SUPPLY                SHORTAGE
2.6.1 MANAGEMENT OF STATE WATER AGENCIES (SWA) IN IMO STATE
2.7 EFFECT OF PERCEPTION OF THE GENERAL PUBLIC ON THE ATTITUDE OF GOVERNMENT AND ITS AGENCIES IN DISCHARGING OF THEIR STATUTORY RESPONSIBILITY
2.8 GOVERNMENT OR PUBLIC INVOLVEMENT IN THE   WATER PROBLEM
2.9THE MAJOR CHEMICAL AND PHYSICAL PROPERTIES OF WATER (WIKIPEDIA, 2011).
2.10 WATER DEMAND AND ISSUES
2.11 RESIDENTIAL PROPERTY TYPES
2.12 WATER SUPPLY AND RESIDENTIAL PROPERTY PRICES IN OWERRI
CHAPTER THREE
RESEARCH METHODOLOGY
3.1 RESEARCH DESIGN
3.2POPULATION OF THE STUDY
3.3SAMPLE AND SAMPLING TECHNIQUE
3.4RESEARCH INSTRUMENTS
3.5VALIDATION AND RELIABILITY OF THE INSTRUMENT
3.1DATA COLLECTION PROCEDURE
3.2DATA ANALYSIS TECHNIQUES
REFERENCES
CHAPTER FOUR
ANALYSIS AND INTERPRETATION OF DATA
4.1 INTRODUCTION
4.2RESPONSE TO QUESTIONNAIRE
4.3 DATA ANALYSIS
4.4TEST OF HYPOTHESIS
CHAPTER FIVE
SUMMARY OF THE FINDINGS CONCLUSION AND RECOMMENDATION
5.1 SUMMARY OF THE FINDINGS
5.2 CONCLUSION
5.3 RECOMMENDATION
GET THE COMPLETE PROJECT»
Do you need help? Talk to us right now: (+234) 8111770269, 08111770269 (Call/WhatsApp). Email: [email protected]
IF YOU CAN'T FIND YOUR TOPIC, CLICK HERE TO HIRE A WRITER»
Disclaimer: This PDF Material Content is Developed by the copyright owner to Serve as a RESEARCH GUIDE for Students to Conduct Academic Research. You are allowed to use the original PDF Research Material Guide you will receive in the following ways: 1. As a source for additional understanding of the project topic. 2. As a source for ideas for you own academic research work (if properly referenced). 3. For PROPER paraphrasing ( see your school definition of plagiarism and acceptable paraphrase). 4. Direct citing ( if referenced properly). Thank you so much for your respect for the authors copyright. Do you need help? Talk to us right now: (+234) 8111770269, 08111770269 (Call/WhatsApp). Email: [email protected]
Related Articles
---

Purchase Detail
Hello, we're glad you stopped by, you can download the complete project materials to this project with Abstract, Chapters 1 – 5, References and Appendix (Questionaire, Charts, etc) for N4000 ($15) only, To pay with Paypal, Bitcoin or Ethereum; please click here to chat us up via Whatsapp.
You can also call 08111770269 or +2348059541956 to place an order or use the whatsapp button below to chat us up.
Bank details are stated below.
Bank: UBA
Account No: 1021412898
Account Name: Starnet Innovations Limited
The Blazingprojects Mobile App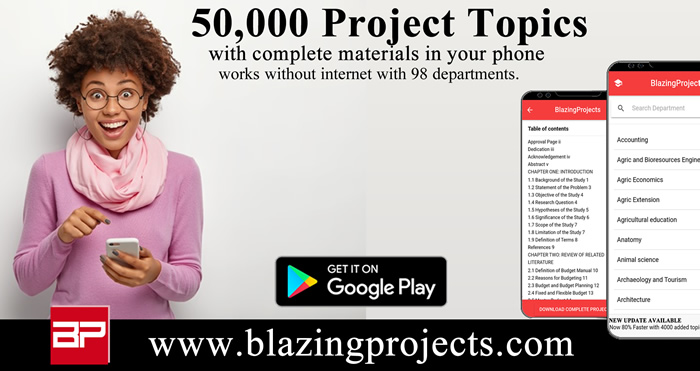 Download and install the Blazingprojects Mobile App from Google Play to enjoy over 50,000 project topics and materials from 73 departments, completely offline (no internet needed) with the project topics updated Monthly, click here to install.