EFFECTS OF SIMULATED CRUDE OIL CONTAMINATION ON THE PHYSICOCHEMICAL PROPERTIES AND BACTERIAL POPULATION OF RHIZOSPHERE OF SORGHUM VULGARE PERS
ABSTRACT
This study has been undertaken to investigate the physicochemical properties and the bacterial population of the rhizosphere of Sorghum vulgare. In order to simulate spillage, 0.2, 0.9 and 5.0 % v/w concentrations of crude oil were used to contaminate soil sown with seeds of Sorghum vulgare, while the control had no crude oil contamination.  0ne hundred and twenty days after contamination, the physicochemical properties and bacterial population of the rhizosphere were analyzed using standard techniques.  Results showed that 5.0 % v/w of crude oil  used in this study caused significant (P<0.05) increase in soil pH, soil temperature, bulk density and total petroleum hydrocarbon  while moisture content, sand particle, exchangeable cations and total organic matter were significantly (P< 0.05) reduced when compared with all the other treatments. These physicochemical conditions may suggest low fertility and could have been as a result of 5.0 % v/w concentration of crude oil used to simulate pollution.  Soil treated with 0.9 %v/w concentration of crude oil  gave highest increase in soil  electrical conductivity, silt particle, exchangeable bases such as Na+, Ca2+, Mg2+  and K+, total nitrogen and bacterial population when compared with all the other treatments and significant decrease in total petroleum hydrocarbon when compared with all the crude oil treated samples. This suggests that there was synergistic cooperation between roots of Sorghum vulgare and rhiztospheric bacteria which may have facilitated removal of petroleum hydrocarbon and improved the physicochemical conditions and bacterial population of the soil treated with 0.9 % v/w concentration of crude oil. Hydrocarbon-utilizing bacteria isolated from the crude oil contaminated rhizosphere of Sorghum vulgare were Pseudomonas sp., Bacillus sp., Klebsiella sp. and Streptomyces sp.
This Research Project Material is posted with good intentions. if you own it, and believe that your right is infringed or violated, Please send us a mail – [email protected] and actions will be taken immediately. Thank you.
---
Talk to us
Please call 08111770269 or +2348059541956 to place an order or use the whatsapp button below to chat us up.
---
The Blazingprojects Mobile App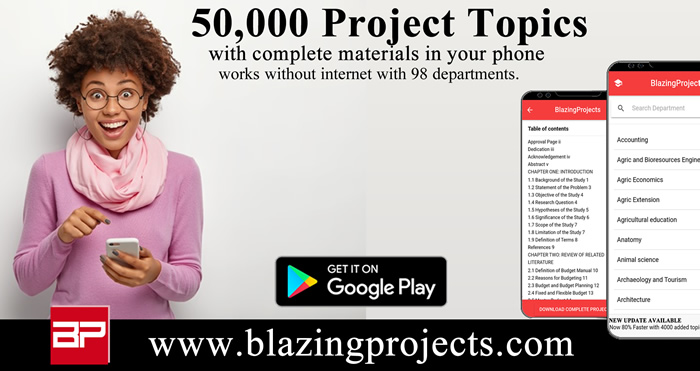 Download and install the Blazingprojects Mobile App from Google Play to enjoy over 50,000 project topics and materials from 73 departments, completely offline (no internet needed) with the project topics updated Monthly, click here to install.
Contains 50,000 project topics.
With complete project materials.
Contains 73 departments.
Completely offline, No internet needed.
Updated Monthly with new project topics & departments.
Easy to navigate and search projects.
Easily shareable via Xender, Bluetooth, etc.
Easy project support from inside the App.
Universities, Polytecnics & Colleges of Education.
INSTALL NOW