ABSTRACT
This study is on the Evaluation of Technical Services in Abia State Central Library Board, Umuahia. The study is divided into five (5) chapters. Chapter 1: It deals with the introduction/background of study, statement of the problem, objectives of the study, scope of the study, significance of the study, definition of terms. Chapter 2: Literature review, in this chapter, the researcher presents the materials which he uses/consulted in enlightening some of the points and information in the study. Chapter 3: Research methodology, Design of the study, area of study, population, sample and sample techniques, instrumentation (instrument for data collection), validity of instrument, instrument for data collection, distribution and retrieval of the instrument, data analysis techniques. Chapter 4: Presentation and data/findings, data analysis interpretation/discussion of findings. Chapter 5: Summary, conclusion, recommendation.
---

Purchase Detail
Hello, we're glad you stopped by, you can download the complete project materials to this project with Abstract, Chapters 1 – 5, References and Appendix (Questionaire, Charts, etc) for N5000 ($15) only,
Please call 08111770269 or +2348059541956 to place an order or use the whatsapp button below to chat us up.
Bank details are stated below.
Bank: UBA
Account No: 1021412898
Account Name: Starnet Innovations Limited
The Blazingprojects Mobile App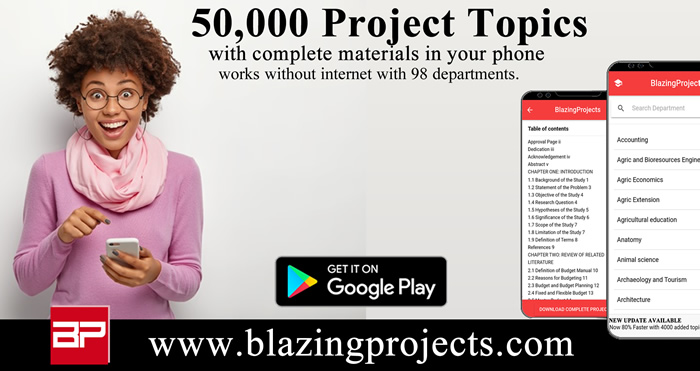 Download and install the Blazingprojects Mobile App from Google Play to enjoy over 50,000 project topics and materials from 73 departments, completely offline (no internet needed) with the project topics updated Monthly, click here to install.