Post Views:
15
CHAPTER ONE
INTRODUCTION
Background
of the study
Local
government plays a very crucial role in the delivery of services to the
citizenry. The success of any local government is its ability to utilize its
human and material resources to achieve the desired goals set aside for the
citizens i.e. rendering needed services to the community. Local government is a
government in which popular participation both in the choice of decision makers
and in its recognition of a third tier of government is made possible. Prior to
1976, however, Nigerian local government has passed through various transformations.
These transformations and reorganizations have affected the system financially,
administratively, politically and functionally.
Local
government administration in Nigeria has had a tortuous history.  It is an important process of government with
significant consequences for national development. It is about mobilization of
human and material resources at the grassroots level for societal progress and
development.
Modern local government administration in Nigeria began during the British colonial rule. But then the system was not uniform. The restructuring and provision of some level of roles, democratic existence and funding of local government administration began in 1976. The 1976 local government reform introduced a uniform system of local government administration throughout the country, recognized local government as third tier of government and granted financial and functional autonomy to local government administration in Nigeria. The reform was a major departure from the previous practice of local government administration in Nigeria (Oviasuyi, Idada&Isiraojie, 2010). During the period when the British colonized Nigeria and the mid 1970's when a major reform initiative was launched, local government administration was essentially undemocratic and authoritarian, either directly colonial in nature, or in indirectly so, but indeed undemocratic, under various traditional governance authorities referred to as Native Administration by the British colonial rulers (Jega, 2006:1).
DOWNLOAD COMPLETE PROJECT TOPICS
FACTORS AFFECTING THE VIABILITY OF LOCAL GOVERNMENT ADMINISTRATION AS THIRD TIER OF GOVERNANCE
Related
---
Talk to us
Please call 08111770269 or +2348059541956 to place an order or use the whatsapp button below to chat us up.
---
The Blazingprojects Mobile App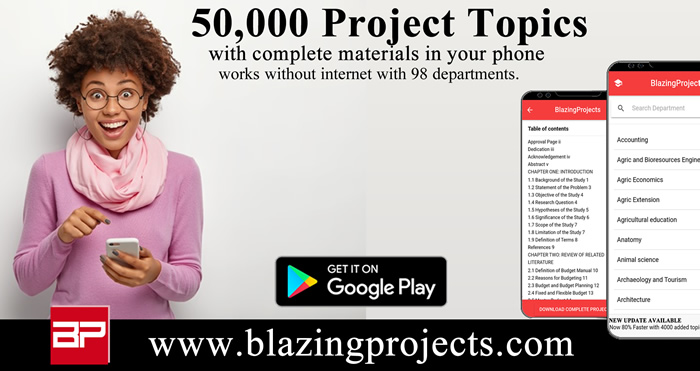 Download and install the Blazingprojects Mobile App from Google Play to enjoy over 50,000 project topics and materials from 73 departments, completely offline (no internet needed) with the project topics updated Monthly, click here to install.
Contains 50,000 project topics.
With complete project materials.
Contains 73 departments.
Completely offline, No internet needed.
Updated Monthly with new project topics & departments.
Easy to navigate and search projects.
Easily shareable via Xender, Bluetooth, etc.
Easy project support from inside the App.
Universities, Polytechnics & Colleges of Education.
INSTALL NOW