GROWTH, DEVELOPMENT AND HEAVY METAL UPTAKE BY AMARANTHUS HYBRIDUS L. POLLUTED WITH PHARMACEUTICAL EFFLUENTS
ABSTRACT
Experiments were carried out to study the ability of Amaranthus hybridus to accumulate heavy metals and active pharmaceutical ingredients (APIs) from two pharmaceutical effluents samples (effluent P, containing Paracetamol and effluent Bcontaining Amoxicillin). The preliminary experiment was carried out in a screen house in completely randomized design (CRD), using sterilised soil and controlled irrigation with the effluents while distilled water was the control. The main experiment involved natural attenuation using unsterilized soil, poultry manure, compost made from the leaves of Delonix regia, access to natural sunlight, air and rainwater. This was carried out outdoors in randomized complete block design (RCBD). Results from analysis of the effluent samples showed they contained high concentrations of cadmium (3.002 ppm), zinc (3.11 ppm), iron (4.02 ppm) and Paracetamol (25.24 μg/ml) for effluent P and Cd (2.30 ppm), Zn (2.12 ppm), Fe (1.21 ppm) and Amoxicillin (60.82 μg/ml) for effluent B. The screen house experiment resulted in poorly developed seedlings of A. hybridus,in which treatment with effluent B showed the highest mean concentration of zinc (4.11±0.12 mg/kg) and of iron (5.20±0.11 mg/kg).  Results from the main experiment showed that the polluted plants did not grow significantly less than the pollution-free plants. T2 (Soil + Poultry manure +effluent P) recorded the highest mean leaf rarea (68.98±2.15 cm2), plant height (116.85±0.35 cm), stem girth (4.13±0.14 cm) and root circumference (4.45±0.18 cm) at week 10. Also, T3 (Soil + Poultry manure + effluent B) recorded the highest mean fresh weight of leaves (23.41±1.06 g), stem (27.01±0.95 g) and root (7.41±0.40 g) at week7. A. hybridus accumulated up to 5.53±0.12mg/kg of zinc in the leaves and 5.49±0.19 mg/kg in its roots while 7.47±0.13 mg/kg of iron was recorded in the leaves and 8.16±0.13 mg/kg in its root.Only a minute quantity of cadmium was recorded in the plant parts (0.0047±0.0002 mg/kg in the leaves). The highest concentration of Paracetamol (1.60±0.06 μg/ml) accumulated in a plant part was recorded in the leaf of T5 (Soil + Compost + effluent P) while the highest concentration of Amoxicillin (5.93±0.10 μg/ml) was recorded in T3 stem (Soil + Poultry manure + effluent B). Therefore, A. hybridus was able to withstand pharmaceutical pollution effects better when it is exposed to a natural environment and these findings should suggest caution in the use of effluents in agricultural practices.
This Research Project Material is posted with good intentions. if you own it, and believe that your right is infringed or violated, Please send us a mail – [email protected] and actions will be taken immediately. Thank you.
---
Talk to us
Please call 08111770269 or +2348059541956 to place an order or use the whatsapp button below to chat us up.
---
The Blazingprojects Mobile App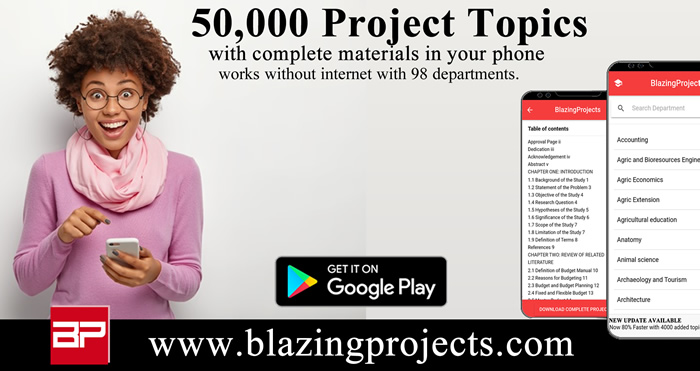 Download and install the Blazingprojects Mobile App from Google Play to enjoy over 50,000 project topics and materials from 73 departments, completely offline (no internet needed) with the project topics updated Monthly, click here to install.
Contains 50,000 project topics.
With complete project materials.
Contains 73 departments.
Completely offline, No internet needed.
Updated Monthly with new project topics & departments.
Easy to navigate and search projects.
Easily shareable via Xender, Bluetooth, etc.
Easy project support from inside the App.
Universities, Polytecnics & Colleges of Education.
INSTALL NOW