Impact Of Social Media On Modern Journalism Practices In Nigerian With A Focus On Journalists
ABSTRACT
The aim of this study was to determine the impact of social media on modern journalism practices in Nigerian with a focus on journalists within Lagos metropolis. As the inception of information communication technology such as the internet has made it possible to find out about events without actually being there. Journalists can report news across the world over the internet. Throughout history, developments in technology and communication have gone hand-in-hand, and the latest technological developments such as the internet have resulted in the advancement of the science of communication to a new level. The process of human communication has evolved over the years, with many path-breaking inventions and discoveries heralding revolutions. The invention of pictographs or the first written communication in the ancient world brought about written communication. These writings were on stone, and remained immobile. To achieve this aim, a critical review to related literature was made. Relevant theory which was used to gratify the study was the social responsibility theory. Quantitative research design was used in which cross-sectional survey method was adopted while the data collection instrument was questionnaire. chi-square were used. Subjects were drawn from journalists in Lagos metropolis in Lagos State, using the purposive sampling technique. Three research questions and one alternative hypothesis guided the study. Research findings showed that social media have enhanced the productivity of journalists in Lagos state and a great number of journalists use them to source for news among other things. To this end, the researcher recommended that journalists should carry out a research on the available social media tools in order to identify reliable and trustworthy social networking sites and use them to discharge their journalistic duties. The researcher suggested that further studies should be carried out on the role of social media in sustaining democracy, advertising, public relations and public opinion polls.
Download The Complete Project Material Now!!
GET THE COMPLETE PROJECT»
Do you need help? Talk to us right now: (+234) 8111770269, 08111770269 (Call/WhatsApp). Email: [email protected]
IF YOU CAN'T FIND YOUR TOPIC, CLICK HERE TO HIRE A WRITER»
Disclaimer: This PDF Material Content is Developed by the copyright owner to Serve as a RESEARCH GUIDE for Students to Conduct Academic Research. You are allowed to use the original PDF Research Material Guide you will receive in the following ways: 1. As a source for additional understanding of the project topic. 2. As a source for ideas for you own academic research work (if properly referenced). 3. For PROPER paraphrasing ( see your school definition of plagiarism and acceptable paraphrase). 4. Direct citing ( if referenced properly). Thank you so much for your respect for the authors copyright. Do you need help? Talk to us right now: (+234) 8111770269, 08111770269 (Call/WhatsApp). Email: [email protected]
Related Current Research Articles
---

Purchase Detail
Hello, we're glad you stopped by, you can download the complete project materials to this project with Abstract, Chapters 1 – 5, References and Appendix (Questionaire, Charts, etc) for N4000 ($15) only, To pay with Paypal, Bitcoin or Ethereum; please click here to chat us up via Whatsapp.
You can also call 08111770269 or +2348059541956 to place an order or use the whatsapp button below to chat us up.
Bank details are stated below.
Bank: UBA
Account No: 1021412898
Account Name: Starnet Innovations Limited
The Blazingprojects Mobile App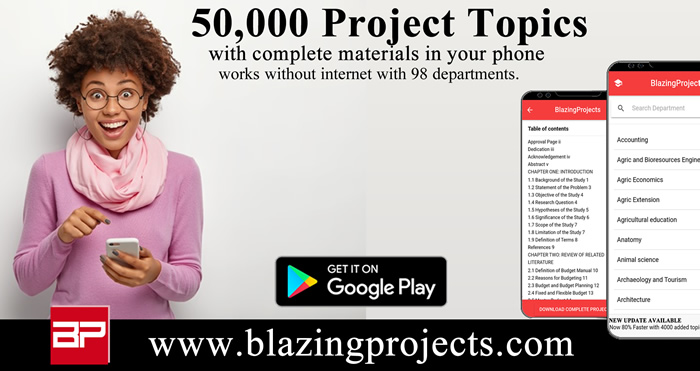 Download and install the Blazingprojects Mobile App from Google Play to enjoy over 50,000 project topics and materials from 73 departments, completely offline (no internet needed) with the project topics updated Monthly, click here to install.