[ad_1]

Abstract
CHAPTER ONE
INTRODUCTION
1.1 Background of the Study
That the mass media plays a vital role in the development process of a country is not again saying. The mass media generally regarded as a channel of communication that are capable of reaching heterogeneous audience simultaneously with uniform message. They regularly cover all sorts of issues such as health, music, fine art, crime, sport, entertainment, political events among others (Meyer, 2002, Soela 2004). The mass media transmits ideas and new information to target audience in the society. Tosanisunmi (2004) has observed that the mass media educate, inform and entertain beyond these functions as they also persuade and catalyze for social mobilization. In other words, the mass media can be regarded as powerful service of information because they have the capability to penetrate every segment of society. They have the ability to disseminate messages about issue, ideas and product.
Furthermore, the mass media has that capability to create awareness and knowledge about issues of national interest. The traditional mass media usually consist of radio, television, newspaper and magazine while the news media involves the internet technologies. Contextually, these media have the responsibility to mobilize for national development. In other words, social mobilization for development largely depends on the media for success. Crusade for change and dissemination of useful information against corruption, bad governance and terrorism depend on the mass media. Ogwezzy (2010) states that it is a common knowledge that the media is the engine of mass communication and the avenue through which the public could be reached.
In the other hand, election is an important element of democracy; elections enable the individual to express a sense of belonging to a political system. Elections provide forum for the discussion of public opinion on important issue. Elections allow an exchange of influence between leaders and the electorate (Nwaozuzu 1999:18-22). This statement captures the relevant functions of the broadcast media in elections which serves as a mobilizing of all the different people in society and at the same time to co-ordinate the activities as they are made to express their views about candidates who are contesting for political position. The broadcast media through their programmes create avenue through which the people express their views about candidates.
GET THE COMPLETE PROJECT»
Do you need help? Talk to us right now: (+234) 8111770269, 08111770269 (Call/WhatsApp). Email: [email protected]
IF YOU CAN'T FIND YOUR TOPIC, CLICK HERE TO HIRE A WRITER»
Disclaimer: This PDF Material Content is Developed by the copyright owner to Serve as a RESEARCH GUIDE for Students to Conduct Academic Research. You are allowed to use the original PDF Research Material Guide you will receive in the following ways: 1. As a source for additional understanding of the project topic. 2. As a source for ideas for you own academic research work (if properly referenced). 3. For PROPER paraphrasing ( see your school definition of plagiarism and acceptable paraphrase). 4. Direct citing ( if referenced properly). Thank you so much for your respect for the authors copyright. Do you need help? Talk to us right now: (+234) 8111770269, 08111770269 (Call/WhatsApp). Email: [email protected]
Related Articles
[ad_2]
---

Purchase Detail
Hello, we're glad you stopped by, you can download the complete project materials to this project with Abstract, Chapters 1 – 5, References and Appendix (Questionaire, Charts, etc) for N4000 ($15) only, To pay with Paypal, Bitcoin or Ethereum; please click here to chat us up via Whatsapp.
You can also call 08111770269 or +2348059541956 to place an order or use the whatsapp button below to chat us up.
Bank details are stated below.
Bank: UBA
Account No: 1021412898
Account Name: Starnet Innovations Limited
The Blazingprojects Mobile App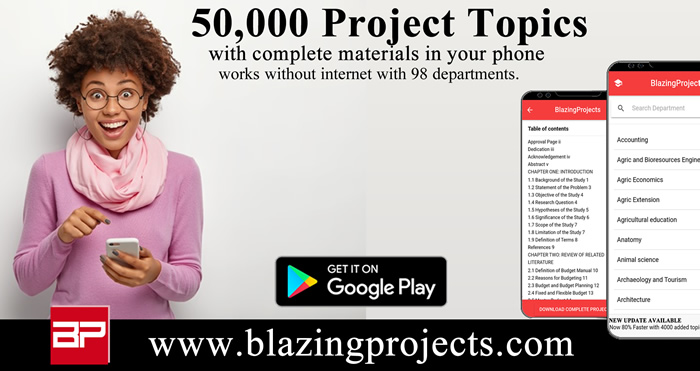 Download and install the Blazingprojects Mobile App from Google Play to enjoy over 50,000 project topics and materials from 73 departments, completely offline (no internet needed) with the project topics updated Monthly, click here to install.