Post Views:
1
ABSTRACT
This study is focused specifically on the effect of time management on employees' performance. It examines the influence of time management on employees' performance. Enugu , using MICHELLE LABORATORY LTD. as a case study. Three research questions and three Hypotheses were formulated. The population for this study was made up of 260 and Taro Yamane formula was used to determine the sample size of 158 respondents who work in the various departments of the company.   Descriptive Survey design was employed. The study elicited opinions of the subjects on the time management and its effect on employees' performance. The major instruments used in the data collection for the study was questionnaire and interview. The test of a hypothesis was conducted using simple chi-square with the aid of the SPSS software, thus establishing the fact that time management is a significant tool for employees' performance. The hypotheses were statistically significant therefore; the study accepted all the alternate hypotheses. The study concludes that time management is a relevant technique in the enhancement of employees performance in organizations.  The study recommends that every manager should recognize the importance of time management in order to enhance commitment. Because time management is a secret to success. Again employees should learn to plan in order to utilize their time judiciously and save time for their social life.
CHAPTER ONE
INTRODUCTION
1.1 Background of the Study         
In every organization there must be a manager who is at the helm of affairs to coordinate command and control organizational resources to achieve organizational goals efficiently and effectively. However, no manager can achieve this without the use of managerial skills of which time cannot be left out. As a manager or entrepreneur, you need to know how to manage your time very judiciously so as to avoid activities regarded as time killers that may debar you from accomplishing the organizational goal.
Time is a very important resource in management. Time limits us from accomplishing a lot of goals. Once time has come and gone, it can never be recalled back. Time is not kept in custody until when the need arises; it rather waits for no man. So we must make the best use of our time.
 Time is of great essence, thus very vital for smooth performance of employees. Hence, time management is recognized as a critical factor for determining success in industries. Time management plays a relevant role in improving employees' performance and achievements. Employees' performance is the most crucial to the organization today on matter how successful or developed, it is man power which it has because those workers are the ones that has made the organization successful and developed it. This is why it has become so important for the organizations to look upon the performance of the employee in order to know who is doing well and who is not. And in order to know the performance of a worker, the managers must know how they are to calculate the performance level of them because it is important to understand how they must assess this information. Fredrick Taylor who has done research on the evaluation of the employees' performance and says that it is not employees' duty to know how well they are doing because one cannot tell themselves regarding their own goals but the management that is over the worker should be held responsible for this task. Therefore, manager in the organizations must look at the workers performance and according to that they must select the right position for them in the organization in which they will perform at their best. Fayol, (1916) came up with the 14 principles of management in which he had defined the qualities of the workers that had direct connection with their performance. Qualities of employees which would assess his or her performance were knowledge, skills, moral, physical, mental, and education.
Related
---
Talk to us
Please call 08111770269 or +2348059541956 to place an order or use the whatsapp button below to chat us up.
---
The Blazingprojects Mobile App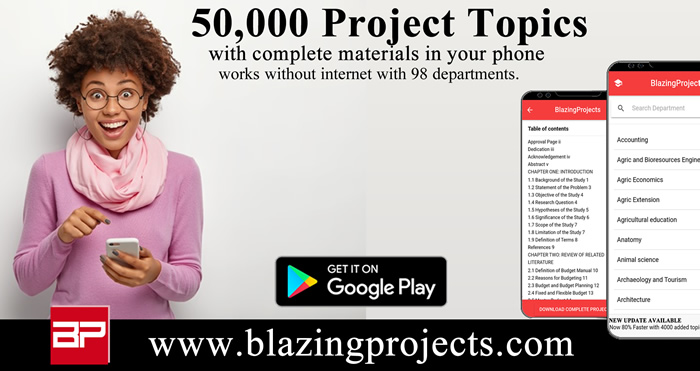 Download and install the Blazingprojects Mobile App from Google Play to enjoy over 50,000 project topics and materials from 73 departments, completely offline (no internet needed) with the project topics updated Monthly, click here to install.
Contains 50,000 project topics.
With complete project materials.
Contains 73 departments.
Completely offline, No internet needed.
Updated Monthly with new project topics & departments.
Easy to navigate and search projects.
Easily shareable via Xender, Bluetooth, etc.
Easy project support from inside the App.
Universities, Polytechnics & Colleges of Education.
INSTALL NOW