CHAPTER ONE
1.0                                           INTRODUCTION
1.1 BACKGROUND OF THE RESEARCH
Nanocrystalline semiconductors have been the subject of intense research 1 due to their unique physical and chemical properties2,3. Evidence shows that reducing the particle (grain) size of semiconductors (chalcogenide) to several tens of nanometers or below produce significant changes in their properties4. For instance, Gold which is chemically inert at normal scales, can serve as a potent chemical catalyst at nanoscale. This is practically possible because of quantum size effects5.
Therefore, the study of the synthesis and characterization of semiconductor materials in the nanoscale size range is of great importance.
As an important binary iv-vi group semiconductor material, PbS is a direct narrow band gap semiconductor with optical energy gap of 0.41 eV at room temperature6 and relatively large excitation Bohr radius 18 nm 7. The band gap can be changed by changing the grain size of the nanocrystalline structure with lattice constant of 5.936 Å8. Quantum-sized PbS has been widely used in many fields, particularly in lead ion-selective sensors9, IR detector,10 photography11, electroluminescent devices such as light-emitting diodes and high-speed switching 12. It can also be used as a photoconductive and photovoltaic detector, making them among the earliest that have been used as high performance photoconductive detectors 13. Also as in solar absorbers, photon switch, optical switch 14, photo resistance, humidity and temperature sensors, decorative coating, solar control coating 15 and the biological fluorescence probe 16 among other uses. For these reasons, many research group have an increasing interest in the development and study of PbS nanostructures with different morphologies, such as nanowires, nanotubes17,   nanorods, nanoballs18, nanopieces 19-20, nanocubes21, nanostars22-23, and hierarchical nanostructures24-25 .
These nanostructures can be obtained by several methods such as electrodeposition26, spray pyrolysis27, photoaccelerated, chemical deposition 28, microwave heating 29 and chemical bath deposition 30. Up-to-date, chemical bath deposition method has been successfully used to deposit many different semiconductor thin films including SnS, CdSe, ZnSe, CdS, CuS, CuInS2 and CuBiS.
Chemical bath deposition technique is chosen in this work owing to its many advantages like low cost31, low working temperatures, easy coating of large surface, simplicity in instrumental operation and also homogeneity with high quality thin films,13. This technique also offers the advantage of being able to deposit thin films on different kinds, shapes, and sizes of substrate 33 .
1.2 STATEMENT OF THE PROBLEM
Scientists in all ramifications have been striving to produce devices that are smaller, lighter and faster with improved efficiency. The recent discovery of nanotechnology made this possible. The small size of nanoparticles endowed them with unusual structural and optical properties unlike their bulk counterparts. It is the interest in this direction that led to the synthesis of PbS nanostructures in this work.
1.3 RESEARCH OBJECTIVE
The goal of this research was to synthesize and characterize PbS nanostructures using chemical bath deposition method. The research objectives were to:
Develop low cost method to synthesize PbS. This was achieved by Chemical Bath Deposition method.
Synthesize high yield PbS thin films with variable morphologies
Study the influence of precursors concentration on the structural, optical and surface morphological properties of PbS nanostructures annealed at a temperature of 150 oC
Characterized the PbS nanostructures produced using scanning electron microscope (SEM), X-ray diffractometer (XRD), Ultra-violet visible (UV) spectrophotometer.
Investigate the effect of annealing on the optical property of the deposited PbS nanostructures.
Determine the crystal size of the PbS nanostructures synthesized
JUSTIFICATION OF THE STUDY
Despite the increasing interest on the synthesis of PbS nanostructures, there is a dearth of information on PbS nanostructures grown using different molarities. This study is to fill the knowledge gap and enable material scientist to synthesize PbS nanostructures with well-defined morphologies suitable for various applications in electronics and opto-electronics.
GET THE COMPLETE PROJECT»
Do you need help? Talk to us right now: (+234) 8111770269, 08111770269 (Call/WhatsApp). Email: [email protected]
IF YOU CAN'T FIND YOUR TOPIC, CLICK HERE TO HIRE A WRITER»
Disclaimer: This PDF Material Content is Developed by the copyright owner to Serve as a RESEARCH GUIDE for Students to Conduct Academic Research. You are allowed to use the original PDF Research Material Guide you will receive in the following ways: 1. As a source for additional understanding of the project topic. 2. As a source for ideas for you own academic research work (if properly referenced). 3. For PROPER paraphrasing ( see your school definition of plagiarism and acceptable paraphrase). 4. Direct citing ( if referenced properly). Thank you so much for your respect for the authors copyright. Do you need help? Talk to us right now: (+234) 8111770269, 08111770269 (Call/WhatsApp). Email: [email protected]
---

Purchase Detail
Hello, we're glad you stopped by, you can download the complete project materials to this project with Abstract, Chapters 1 – 5, References and Appendix (Questionaire, Charts, etc) for N4000 ($15) only, To pay with Paypal, Bitcoin or Ethereum; please click here to chat us up via Whatsapp.
You can also call 08111770269 or +2348059541956 to place an order or use the whatsapp button below to chat us up.
Bank details are stated below.
Bank: UBA
Account No: 1021412898
Account Name: Starnet Innovations Limited
The Blazingprojects Mobile App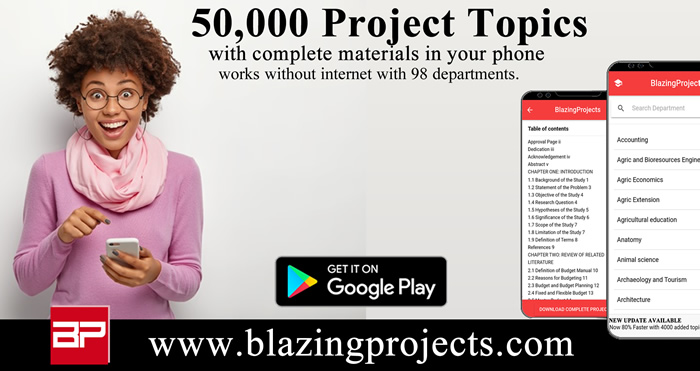 Download and install the Blazingprojects Mobile App from Google Play to enjoy over 50,000 project topics and materials from 73 departments, completely offline (no internet needed) with the project topics updated Monthly, click here to install.