Tapestry and rug knotted weave for interior decoration using the theme of giraffe in three dimensional form
ABSTRACT
This project report is an artistic rendition of a giraffe, using a combination of tapestry weaves and knotted rug weave. These weaves are manipulated and adapted for a sculpture tapestry. The exploration of sculpture tapestry is to broaden the mind of weavers on the use of tapestry beyond flooring and wall hangings for aesthetics and decorations, in places such as an office, houses, galleries among others. This project apart from its aesthesis value, also serves as means of documenting information
CHAPTER ONE INTRODUCTION
Interior decoration is the beautification of the interior of a building, room, office, etc with regards to artistic effect. It is also the art of decorating a room so that it is attractive, easy to use and functions well with the existing architecture. The goal of this is to provide a certain feel for the room, and one of such is a tapestry weave using metal frame loom as an amateur.
Tapestry has been traced all the way back to the bronze age. Tapestries have been used for many end uses but the usage of tapestry on a metal frame loom to weave a three-dimensional work is not common.
Tapestry in the work of textile sculpture, especially using metal frame loom is not common. This metal frame loom is used to show the movement of the animal, the shapes and also brings out the beauty of the animal to make it look real. As the researcher has been able to weave directly on a metal frame loom and has been able to achieve a tapestry weave of a giraffe in three dimensions.
Statement of problem
Textile sculpture (three-dimensional) weaving achieved through the tapestry are not highly recognized.
Aims and Objectives
Using tapestry and rug knotted technique, to depict textile sculptures with the metal frame loom (three-dimensional) that can be used as a decorative piece.
To broaden the mind of designers on new methods they can achieve through exploring. To also show that tapestries can not only be used as wall hangings alone but can also serve as a means of a decorative piece.
Scope of Study
The study involves the use of a metal frame loom for weaving in the creation of textile sculpture in three-dimensional forms. It also involves the careful combination of tapestry and rug knot weave with the metal frame loom.
Significance of Study
Tapestry is mostly used as wall hangings but in this case of study, it is used as a textile sculpture in decorating a room, office for aesthetic and educational purpose. This project also makes the researcher self-employed having known the rudiments of tapestry making, thereby enhancing the growth of entrepreneurial skills the researcher has built on, and also greatly affecting the society.
GET THE COMPLETE PROJECT»
Do you need help? Talk to us right now: (+234) 8111770269, 08111770269 (Call/WhatsApp). Email: [email protected]
IF YOU CAN'T FIND YOUR TOPIC, CLICK HERE TO HIRE A WRITER»
Disclaimer: This PDF Material Content is Developed by the copyright owner to Serve as a RESEARCH GUIDE for Students to Conduct Academic Research. You are allowed to use the original PDF Research Material Guide you will receive in the following ways: 1. As a source for additional understanding of the project topic. 2. As a source for ideas for you own academic research work (if properly referenced). 3. For PROPER paraphrasing ( see your school definition of plagiarism and acceptable paraphrase). 4. Direct citing ( if referenced properly). Thank you so much for your respect for the authors copyright. Do you need help? Talk to us right now: (+234) 8111770269, 08111770269 (Call/WhatsApp). Email: [email protected]
Related Articles
---

Purchase Detail
Hello, we're glad you stopped by, you can download the complete project materials to this project with Abstract, Chapters 1 – 5, References and Appendix (Questionaire, Charts, etc) for N4000 ($15) only, To pay with Paypal, Bitcoin or Ethereum; please click here to chat us up via Whatsapp.
You can also call 08111770269 or +2348059541956 to place an order or use the whatsapp button below to chat us up.
Bank details are stated below.
Bank: UBA
Account No: 1021412898
Account Name: Starnet Innovations Limited
The Blazingprojects Mobile App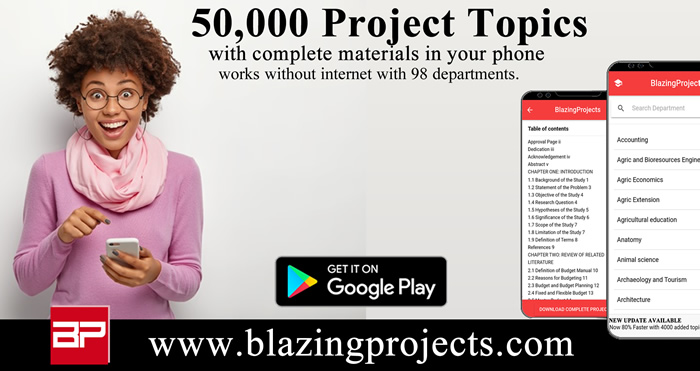 Download and install the Blazingprojects Mobile App from Google Play to enjoy over 50,000 project topics and materials from 73 departments, completely offline (no internet needed) with the project topics updated Monthly, click here to install.