CHAPTER ONE
INTRODUCTION
BACKGROUND OF STUDY
        Nigeria as a developing nation has been faced with a lot of problems, such as inadequate healthcare, poverty, illiteracy, unemployment, poor infrastructure and over reliance on oil, crime, corruption, poor macro- economic management, political instability etc.
        These are undoubtedly a challenge to the educational system. National Diploma (ND) programme, which are offered in tertiary level of education in the country, are designed among other goals to;
a.           Produce highly motivated, conscientious and efficient class room teachers for all levels of the Nigeria educational system.
b.          Provide graduates with the intellectual and professional background adequate for their assignment, and make them adaptable to changing situations (F.R.N, 1998). Thus the ND programme ought to help students to achieve knowledge and skills needed to function at maximum ability in a constantly changing world.
Home and Rural Economics offered education is one of the ND programme offered, most often a part of Vocational and Technical Education. Home and Rural Economies bring together knowledge and skills from different disciplines within the pure, applied and behavioural sciences, arts and agriculture to bear upon the family and its environment.
Home and Rural Economic Education graduates are expected to be prepared not only for teaching, but for adaptable employment situations of which self-employment is inclusive. Interestingly, one solution to unemployment is the generation of self-employment (United Nations Educational Scientific and Cultural Organization (UNE-SCO, 1997). Self-employment how ever requires that individuals possesses among other things entrepreneurial knowledge, attitude and skills. This requires entrepreneurship education.
Fortunately, the federal government of Nigeria has recognized that entrepreneurship plays a crucial role in the innovations that leads to technological charges and productivity growth. Hence, very recently, the National Universities Commission (NUC) and the National Diploma (ND) respectively, in the Draft, Benchmark and Minimum Academic Standard recommended four (4) credit units of entrepreneurship studies for school of Applied Science, where Home and Rural Economics is based. This is a welcome development and has far reading implications for both students and teachers in Home and Rural Economics.
However, Lemeh and Anyakoha (2006) emphasized that for the goal of including the entrepreneurship courses in the ND Home and Rural Economics programme to be attained, strategies for the effective integration of the course must necessarily be determined.
Entrepreneurship has therefore become a vital issue in national development. Home and Rural Economics can become entrepreneurs because they are supposed to have the basic knowledge and skills required for specific jobs or occupations.
However, mastery of craft or processing techniques or even infusion of addition: 1 capital is not enough to ensure survivals of an enterprise (Ikemefuna, 1991).
The importance of finding challenges of entrepreneurship in Home and Rural Economics cannot be over emphasized.
STATEMENT OF PROBLEMS
It is quite unfortunate that majority of Home and Rural Economics  graduates can no longer be self-employed because they are not exposed to entrepreneurship.
        It was certain that many Home and Rural Economics graduates were afraid of establishing their own business, the reason is that, they are lacking entrepreneurship skills.
        A study conducted on higher education and work with particular reference to Home and Rural Economics (Odo, 1998) showed that 26.6 percent of undergraduates were interested in being self-employed. The data obtained from graduates of Home and Rural Economics showed that only 13 percent had set up their own businesses after graduation. However, current employment data shows only 6.6 percent to be self-employed, suggesting that some of these businesses may have folded up. These findings may suggest that there could be challenges for Home and Rural Economics Entrepreneur.
        The greatest challenges of Home and Rural Economics is to determined those issues that pose various forms of challenges and threats to individuals, families and society at large and then address than most appropriately (Anyakoha, 2002).
PURPOSE OF THE STUDY
To find-out challenges of entrepreneurship in Home and Rural Economics Education.
Therefore the objectives will be to;
1.          Explain the concept of entrepreneurship
2.          Identify characteristics of an entrepreneurship
3.          Show the place of entrepreneurship in Home and Rural Economics.
4.          Identify the challenges of entrepreneurship in Home and Rural Economics.
5.          Offer recommendations for enhancing entrepreneurship to in Home and Rural Economics.
SIGNIFICANCE OF THE STUDY                       
        The significance if this study will be of great achievement to the Home and Rural Economics students in tertiary institution in Anambra State. If they can be able to know how to be self-employed by acquiring entrepreneurial skills so that some problems such as corruption, poverty, unemployment etc will be reduced in our society.
RESEARCH QUESTIONS
1.          What are the concepts of entrepreneurship?
2.          What are the characteristics of entrepreneurship?
3.          What are the places of entrepreneurship in Home and Rural Economics?
4.          What are the challenges of entrepreneurship in Home and Rural Economics?
5.          What are the recommendations for enhancing entrepreneurship in Home and Rural Economics?
SCOPE AND LIMITATIONS OF THE STUDY             
It is quite impossible to sample all the Home and Rural Economics graduates in tertiary institutions in Anambra State within the period of time. It was however possible to obtain representative random sample of the Home and Rural Economics graduates in tertiary institutions in Anambra State.
        The following limitations were encountered by researchers in the course of this study. Lack of finance was a big problems to the researcher in terms of the students were another problem in spite of several efforts made to some students, they skill felt uncooperative in responding to the questions some of them collected the question and did not return them to the researchers.  
---

Purchase Detail
Hello, we're glad you stopped by, you can download the complete project materials to this project with Abstract, Chapters 1 – 5, References and Appendix (Questionaire, Charts, etc) for N5000 ($15) only,
Please call 08111770269 or +2348059541956 to place an order or use the whatsapp button below to chat us up.
Bank details are stated below.
Bank: UBA
Account No: 1021412898
Account Name: Starnet Innovations Limited
The Blazingprojects Mobile App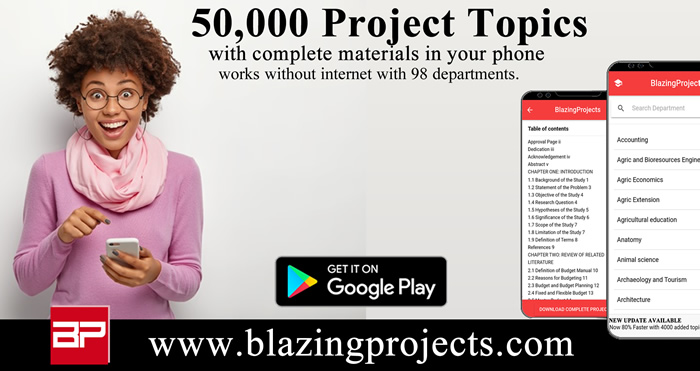 Download and install the Blazingprojects Mobile App from Google Play to enjoy over 50,000 project topics and materials from 73 departments, completely offline (no internet needed) with the project topics updated Monthly, click here to install.