THE DESIGN AND CONSTRUCTION OF A THREE PHASE AUTOMATIC PHASE SELECTOR

By
DIEMIJENYO HOPE F. EE/H2003/026
Presented To
Department of Electrical/Electronic Engineering
ABSTRACT
The basic aim of the design and construction of this three phase automatic phase selector is to demonstrate how contactors can be used to switch in between three lines or phases e.g âRED, YELLOW AND THE BLUE PHASEâ without interfering with the contacts.
This type of phase selector is able to switch between phases with the aid of inter-locking one phase to the other either one phase circuit is dependent on the other phase circuit which means that two phase circuit which that two phases cannot come on at the same time.
This research work is divided into six chapters, chapter one emphasizes on the introduction of the topic, the second chapter centers on the review p=of related literature as it regard to the design and construction of this Automatic three phase selector.  
TABLE OF CONTENTS
Title page
Certification
Dedication
Acknowledgement
Abstract
Table of contents
CHAPTER ONE
1.1 Introduction
CHAPTER TWO
2.1 Review of Related Literatures
2.2 Contactors
2.3 Auxiliary Timer
2.4 Circuit Breaker
2.5 Indicator Lights
CHAPTER THREE
3.1 Outline of Basic Principles
3.2 Principles of Operation
CHAPTER FOUR
4.1 Research Design and Construction
4.2 Project Construction
4.3 Mounting of Components
4.4 Packaging
4.5 Precaution
CHAPTER FIVE
5.1 Economic of the Project
5.2 Project Viability
5.3 Area of Usage
5.4 Costing
CHAPTER SIX
6.1 Associated Fault and Remedies
6.2 Conclusion
6.3 Reference 
---

Purchase Detail
Hello, we're glad you stopped by, you can download the complete project materials to this project with Abstract, Chapters 1 – 5, References and Appendix (Questionaire, Charts, etc) for N5000 ($15) only,
Please call 08111770269 or +2348059541956 to place an order or use the whatsapp button below to chat us up.
Bank details are stated below.
Bank: UBA
Account No: 1021412898
Account Name: Starnet Innovations Limited
The Blazingprojects Mobile App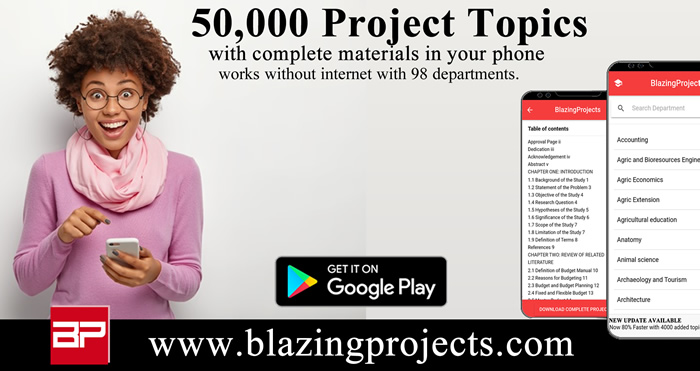 Download and install the Blazingprojects Mobile App from Google Play to enjoy over 50,000 project topics and materials from 73 departments, completely offline (no internet needed) with the project topics updated Monthly, click here to install.