THE DESIGN AND CONSTRUCTION OF AN UNINTERRUPTED POWER SYSTEM (UPS)

By
JACOB, EYO ITA EE/H2003/109
Presented To
Department of Electrical/Electronic Engineering
ABSTRACT
This uninterruptible power supplies device has the capability of converting from 12volts D.C to 220volts alternating current at the frequency of 50Hz with the help of a step-up transformer. The main importance of this device is its ability to ensure absolute continuity of power to the computerized control system thereby protecting a critical equipment from electrical supply failure. Ups system achieve this by rectifying the mains supply, using the direct current to charge the standby battery and to produce a "clean" alternating current by passing through an inverter and filter system. The output produced is free of sags of services in the line voltage, frequency variation, spikes and transients. 
TABLE OF CONTENTS
Title page
Certification
Dedication
Acknowledgement
Abstract
Table of content
CHAPTER ONE
1.0 Introduction
1.1 Project Objective
CHAPTER TWO
2.0 Literature Review
CHAPTER THREE
3.0 Methodology
3.1 Design Analysis
3.2 Circuit Diagram
3.3 Block Diagram
3.4 Trickle Charging
3.5 Automatic Function
CHAPTER FOUR
4.0 Principle of Operation
4.1 Modes of Operation of UPS System
4.2 The DC Source
4.3 Automatic Control System
4.4 Transformers
CHAPTER FIVE
5.0 Construction, Testing/System Evaluation
5.1 Packaging
5.2 Maintenance
CHAPTER SIX
6.0 Conclusion/Recommendation
6.1 Costing
6.2 Bibliography
---

Purchase Detail
Hello, we're glad you stopped by, you can download the complete project materials to this project with Abstract, Chapters 1 – 5, References and Appendix (Questionaire, Charts, etc) for N5000 ($15) only,
Please call 08111770269 or +2348059541956 to place an order or use the whatsapp button below to chat us up.
Bank details are stated below.
Bank: UBA
Account No: 1021412898
Account Name: Starnet Innovations Limited
The Blazingprojects Mobile App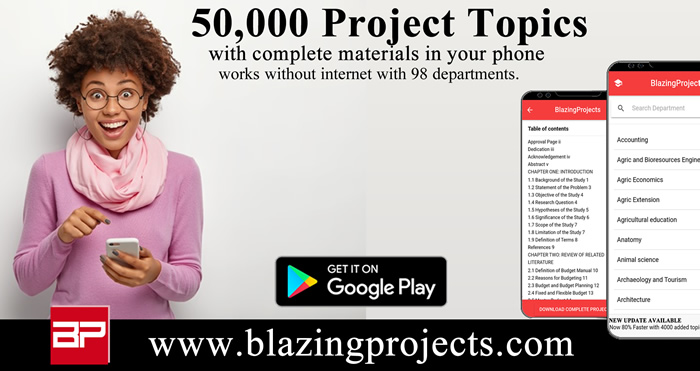 Download and install the Blazingprojects Mobile App from Google Play to enjoy over 50,000 project topics and materials from 73 departments, completely offline (no internet needed) with the project topics updated Monthly, click here to install.