THE DESIGN AND IMPLEMENTATION OF A FOUR – WAY TRAFFIC LIGHT CONTROL CIRCUIT

By
ELUAREYA JOHN
Presented To
Department of Electrical/Electronic Engineering
ABSTRACT
This work has been aimed at efficient means of controlling the traffic effectively for twenty-four hours. As the world is growing technologically more and more vehicles jump into the public road adding to the already existing number. Consequently, more efficient way of controlling the traffics becomes more desirable as compared to the obsolete way of using the traffic personnel's.
The design of this traffic light control is grouped basically into three; digital logic design, the power circuit and the power supply design. The digital logic design is based on integrated circuits which happens to be the modern way of designing digital systems, the power circuit design is aimed at lighting the different LEDS as and when due, while the power supply design strives to achieve a constant 8V dc supply for powering the circuit.
For this work, the frame with the LEDS mounted on it has been constructed, the driven circuit was implemented and the entire system enclosed in the smoothened frame.
The realized work was tested and guaranteed to give a firmly good level of performance.
TABLE OF CONTENTS
Title page
Approval page
Dedication
Acknowledgement
Table of contents
Abstract
CHAPTER ONE
1.0 Introduction
1.1 aims of the project
1.2 Methodology
CHAPTER TWO
2.0 A Review on the Traffic Light Control System
2.1 The Power supply unit
2.2 The transformer
2.3 The rectifier
2.4 The filter
2.5 The Voltage Regulator
2.6 The Digital Logic Circuit
2.7 The Oscillator
2.8 The Counter
2.9 The Decoder
2.10 The Logic Gates
2.11 The Power Circuit
2.12 The Booster/Amplifier Stage
2.13 The Lamp/LEDS
CHAPTER THREE
3.0 The Traffic Light Control
3.1 The Power Supply Design Specifications
3.2 The Transformers
3.3 Rectifier
3.4 The Filter Capacitor
3.5 The Voltage Regulator
3.6 The Digital Logic Design
3.7 The Oscillator
3.8 The 4017 Decade Counter
3.9 The output Logic Gate Circuit
CHAPTER FOUR
4.0 Problem Encountered
4.1 Construction and Testing
4.2 Cost Analysis
4.3 The overall Circuit Diagram of the $-way Traffic Light Control
CHAPTER FIVE
5.1 Conclusion
5.2 Recommendations
REFERENCES.
---

Purchase Detail
Hello, we're glad you stopped by, you can download the complete project materials to this project with Abstract, Chapters 1 – 5, References and Appendix (Questionaire, Charts, etc) for N5000 ($15) only,
Please call 08111770269 or +2348059541956 to place an order or use the whatsapp button below to chat us up.
Bank details are stated below.
Bank: UBA
Account No: 1021412898
Account Name: Starnet Innovations Limited
The Blazingprojects Mobile App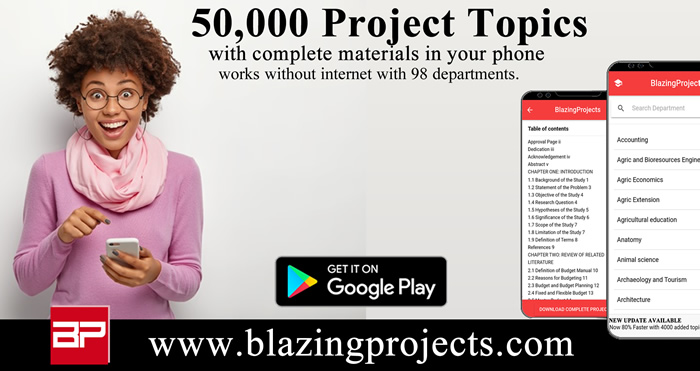 Download and install the Blazingprojects Mobile App from Google Play to enjoy over 50,000 project topics and materials from 73 departments, completely offline (no internet needed) with the project topics updated Monthly, click here to install.