THE DESIGN OF A 500 WATTS UNINTERRUPTIBLE POWER SUPPLY WITH VOLTAGE LOW INDICATOR [INVERTER]

By
EZE VALENTINE N. EE/H2003/017
Presented To
Department of Electrical/Electronic Engineering
ABSTRACT
As new ideas unfold and technology become advanced with business increasingly being dependent on technology for their fundamental operation; the need for system availability is of paramount importance.
Uninterruptible power supply [INVERTER] maintain continuous supply of electric power to certain essential equipment that cannot be shut down unexpectedly. They are generally associated with telecommunication equipment, computer system and other facilities such as airport traffic controls system where even brief commercial power interruption could cause injuries or fatalities, serious business disruption in data loss.
The 500watts UPs is designed to be used in such situation. With its conversion design, providing clean square wave power to the critical load and with the battery, this UPs [Inverter] is ideal for small business and home PC that need adequate protection against power failure. 
TABLE OF CONTENTS
Title page 
Approval page
Dedication
Acknowledgement
Abstract
Table of contents
CHAPTER ONE
PROJECT OVERVIEW
1.1 Introduction
1.2 Scope and specification
1.3 System Architecture
CHAPTER TWO
LITERATURE REVIEW
2.1 Introduction
2.2 Current Trends in UPs
2.3 Implementation option
2.4 Preference Technique
CHAPTER THREE
3.1 Working Principles of an Inverter
3.2 Working Principle of some Device in an Inverter
3.3 Table of Components used
3.4 Conclusion.
REFERENCES
---

Purchase Detail
Hello, we're glad you stopped by, you can download the complete project materials to this project with Abstract, Chapters 1 – 5, References and Appendix (Questionaire, Charts, etc) for N5000 ($15) only,
Please call 08111770269 or +2348059541956 to place an order or use the whatsapp button below to chat us up.
Bank details are stated below.
Bank: UBA
Account No: 1021412898
Account Name: Starnet Innovations Limited
The Blazingprojects Mobile App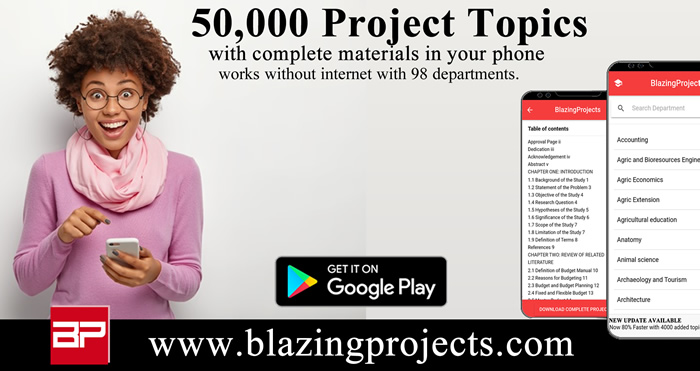 Download and install the Blazingprojects Mobile App from Google Play to enjoy over 50,000 project topics and materials from 73 departments, completely offline (no internet needed) with the project topics updated Monthly, click here to install.