Abstract
The research examines the effects of news commercialization on the contents of private media" with a case study of AIT and Channels Television, Lagos. Commercialization of news began in Nigerian media houses as a result of the Structural Adjustment Programme (SAP) introduced in 1986 and the eventual withdrawal of subsidies from government owned media houses. With the increasing rise in production cost and dwindling circulation, the media houses resort to all kinds of tricks including commercialization of the news to make money. The situation has led to a lot of compromise, with sensationalisation of news stories and half-truths reaching alarming stage. This commercialization at the institutional level is thriving because editors, publishers and owners of the broadcast stations/ print media see the organizations, or their investment, as a profit making venture that should yield the required financial return. Increasingly, commercial-oriented news stories are taking the place of hard news reports. Reporters and editors are supposed to be concerned not with profits but rather with reporting the news as best they can. But that barrier is coming down, and editors are increasingly looking at media as a product that should appeal to advertisers as well as viewers. Survey research method was adopted and 180 copies of questionnaires were administered to the respondents that were drawn through Yard Formula of 1971. It is recommended that if commercialization should continue there should be a minimum any broadcast house should used daily.
GET THE COMPLETE PROJECT»
Do you need help? Talk to us right now: (+234) 8111770269, 08111770269 (Call/WhatsApp). Email: [email protected]
IF YOU CAN'T FIND YOUR TOPIC, CLICK HERE TO HIRE A WRITER»
Disclaimer: This PDF Material Content is Developed by the copyright owner to Serve as a RESEARCH GUIDE for Students to Conduct Academic Research. You are allowed to use the original PDF Research Material Guide you will receive in the following ways: 1. As a source for additional understanding of the project topic. 2. As a source for ideas for you own academic research work (if properly referenced). 3. For PROPER paraphrasing ( see your school definition of plagiarism and acceptable paraphrase). 4. Direct citing ( if referenced properly). Thank you so much for your respect for the authors copyright. Do you need help? Talk to us right now: (+234) 8111770269, 08111770269 (Call/WhatsApp). Email: [email protected]
Related Current Research Articles
---

Purchase Detail
Hello, we're glad you stopped by, you can download the complete project materials to this project with Abstract, Chapters 1 – 5, References and Appendix (Questionaire, Charts, etc) for N4000 ($15) only, To pay with Paypal, Bitcoin or Ethereum; please click here to chat us up via Whatsapp.
You can also call 08111770269 or +2348059541956 to place an order or use the whatsapp button below to chat us up.
Bank details are stated below.
Bank: UBA
Account No: 1021412898
Account Name: Starnet Innovations Limited
The Blazingprojects Mobile App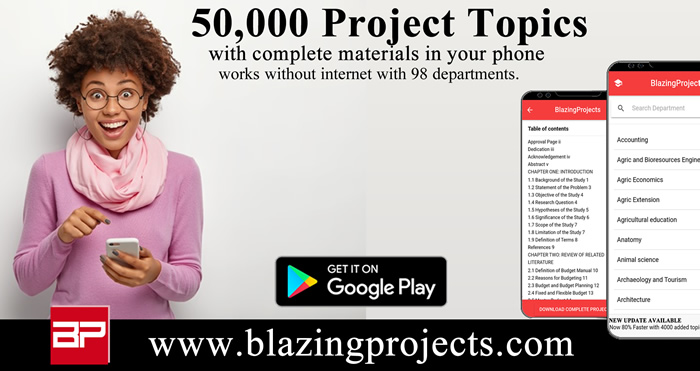 Download and install the Blazingprojects Mobile App from Google Play to enjoy over 50,000 project topics and materials from 73 departments, completely offline (no internet needed) with the project topics updated Monthly, click here to install.