ABSTRACT
This project was carried using activated local form local corporation Enugu, and the rate of bleaching of palm oil using spectrophotometer by measuring the absorbance. It was also performed to check the suitability of local as a bleaching agent for palm oil.
The local from local corporation Enugu was collected and activated with acid (H2S04) before being used for the bleaching process. The bleaching effects of the activated local was compared to that of the unactivated local.
From the results obtained, it was observed that whereas the weight engage of local was used, the average percentage colour reduction of palm oil.
Therefore, the optimum amount of local for bleaching was found to be 10 weight %
It was equally observed that as the temperature increased, the percentage colour reduction of the oil increases. Besides it was equally noticed that the smaller the fastide size of the local sample, the higher the effect of on the oil and the higher the percentage colour reduction.
TABLE OF CONTENTS
CHAPTER ONE
INTRODUCTION REVIEW
SCOPE
CHAPTER TWO 2.0              LITERATURE REVIEW
2.1       HISTORY OF PALM OIL
2.2              CHARACTERISTICS OF PALM OIL
2.3              PROPERTIES OF PALM OIL
2.4              CHEMICAL COMPOSITION OF PALM OIL
2.5              CATROTENES
2.51          FATTY ACIDS
2.71          NEUTRALIZATION
2.72          BLEACHING
2.73          CHEMICAL BLEACHING
2.741         AERATION BLEACHING
2.742         SOLVENT / ADSORPTION BLEACHING
2.743         PREVENTING MEASURES OF PALM OIL
2.6              USES OF PALM OIL KERNEL AND
PALM KERNEL MEAL
CHAPTER THREE
3.1              COAL AND ITS PRICING
3.2              CHARACTERISTIC OF COAL
3.3              TYPES OF COAL
3.4              CLASSIFICATION OF COAL
LOW RANK COAL
HIGHER  RANK COAL
3.5              PROPERTIES RANK COAL
3.51          PHYSICAL PROPERTIES
3.52          CHEMICAL PROPERTIES
CHAPTER FOUR
4.0       EXPERIMENT PROCEDURE
4.1              MATERIALS
4.2              BLEACHING APPARATUS
4.3              COAL ACTIVATION
4.4              TREATMENT OF PALM OIL
CHAPTER FIVE
5.0              EXPERIMENTAL RESULT
5.1       EFFECTIVE OF TEMPERATURE ON BLEACHING
PERCENTAGE OF COAL BTY EFFECT FOR BLEACHING
EFFECT OF PARTICLES SIZE OR COLOUR REDUCTION
CHARACTERIZATION OF OIL SAMPLE
CHAPTER SIX 6.1              DISCUSSION
6.2              CONCLUSION / RECOMMENDATION
6.3              REFERENCES
CHAPTER ONE
THE RATE OF BLEACHING OF PALM OIL WITH COAL
1.1              INTRODUCTION
Nigerian is based with abundant natural and mineral resources of which local mineral is not an exception some of these deposits or resources already being aimed for the process known as adsorption. In this process, there is condensation of the molecules of the fluid on the face surface of the solid or liquid called the adsorbent.
Inspite of the fact that there are many local deposits in the country, local oil processing companies firefer to use an imported brand of local, clay, fillers earth, for the oil bleaching. But due to the lost and difficulties of importation of these industrial inputs and the structural adjustment programme (SAP) of the federal ministry government, industries involved in soap production had to change from the importation of refined oil or tallow to local available substitutes.
As a result of the exorbitant lost involved in the used of these foreign bleaching earths, researchers have resorted to finding a cost effective and safe bleaching agent which leads to the discovery of local, fillers earth local clay.
Some of these processes used in palm oil refining are bleaching and deodorization the former being the most important the bleaching of red palm oil is the removal of the carotone figment found in the structure of oil. This is done by using local as an absorber and suitable high temperature at about 95-1040f. the result is a colourless oil which serves the same purpose as the follow after been deodorized.
Oil is insoluble in water and exhibits surface properties such as increase of surface tension with temperature. In general fats are referred to as glycercedes of unsaturated fatty acids.
This research project was therefore designed to investigate the potentials of local deposits in Nigeria for the bleaching of palm oil.
1.2       SCOPE
The objectives of this project is to determine or investigate the efficiency of using activated local for the adsorption of carotene content of the palm oil. It is also introduced to study the effects of particle size percentage by weight of local sample etc on the adsorption process.
GET THE COMPLETE PROJECT»
Do you need help? Talk to us right now: (+234) 8111770269, 08111770269 (Call/WhatsApp). Email: projects@blazingprojects.com. Disclaimer: This PDF Material Content is Developed by the copyright owner to Serve as a RESEARCH GUIDE for Students to Conduct Academic Research. You are allowed to use the original PDF Research Material Guide you will receive in the following ways: 1. As a source for additional understanding of the project topic. 2. As a source for ideas for you own academic research work (if properly referenced). 3. For PROPER paraphrasing ( see your school definition of plagiarism and acceptable paraphrase). 4. Direct citing ( if referenced properly). Thank you so much for your respect for the authors copyright.
Related
---

Purchase Detail
Hello, we're glad you stopped by, you can download the complete project materials to this project with Abstract, Chapters 1 – 5, References and Appendix (Questionaire, Charts, etc) for N4000 ($15) only, To pay with Paypal, Bitcoin or Ethereum; please click here to chat us up via Whatsapp.
You can also call 08111770269 or +2348059541956 to place an order or use the whatsapp button below to chat us up.
Bank details are stated below.
Bank: UBA
Account No: 1021412898
Account Name: Starnet Innovations Limited
The Blazingprojects Mobile App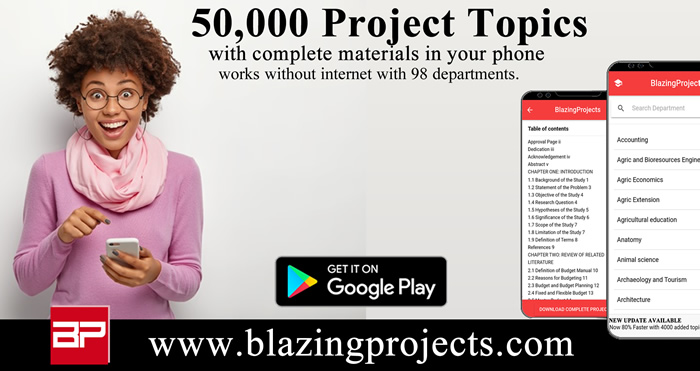 Download and install the Blazingprojects Mobile App from Google Play to enjoy over 50,000 project topics and materials from 73 departments, completely offline (no internet needed) with the project topics updated Monthly, click here to install.