Abstract:
Libraries see themselves as central information providers for their clientele, at universities or research institutions with the development of the World Wide Web, the "information search" has grown to be a significant business sector of a global, competitive and commercial market. Powerful players have entered this market, such as commercial internet search engines, information portals, multinational publishers and online content integrators. If libraries do not want to become marginalized in a key area of their traditional services, they need to acknowledge the challenges that come with the globalization of scholarly information, the existence and further growth of the academic internet. Keywords: library, information search, globalization, information portals
INTRODUCTION:
With today's instant anywhere-anytime access to Google, Bing and Wolfram Alpha, where searching for information takes a few micro seconds via an internet connected device, some people regard physical libraries as a quaint relics of a forgotten age. Looking at the practice of today's digital library portals we get the impression that the internet is almost non-existent in the academic resource discovery environment. What we find are online library catalogues, electronic journals and (sometimes) e-books, which are mainly digitally converted print materials that have traditionally been the focus of library acquisition policies. Also databases have been well known for a long time. Content is generally delivered through well-established service channels by publishers, book-houses or subscription agencies. The digitization of publishing and the advent of the World Wide Web have resulted in the proliferation of avast amount of content types and formats that include, but are not limited to, digitized collections, faculty and research groups' websites, conference web servers, preprint/e-print servers and, increasingly, institutional repositories and archives, as well as a wide range of learning objects and courses.
GET THE COMPLETE PROJECT»
Do you need help? Talk to us right now: (+234) 8111770269, 08111770269 (Call/WhatsApp). Email: [email protected]
IF YOU CAN'T FIND YOUR TOPIC, CLICK HERE TO HIRE A WRITER»
Disclaimer: This PDF Material Content is Developed by the copyright owner to Serve as a RESEARCH GUIDE for Students to Conduct Academic Research. You are allowed to use the original PDF Research Material Guide you will receive in the following ways: 1. As a source for additional understanding of the project topic. 2. As a source for ideas for you own academic research work (if properly referenced). 3. For PROPER paraphrasing ( see your school definition of plagiarism and acceptable paraphrase). 4. Direct citing ( if referenced properly). Thank you so much for your respect for the authors copyright. Do you need help? Talk to us right now: (+234) 8111770269, 08111770269 (Call/WhatsApp). Email: [email protected]
Related Current Papers and Articles
---

Purchase Detail
Hello, we're glad you stopped by, you can download the complete project materials to this project with Abstract, Chapters 1 – 5, References and Appendix (Questionaire, Charts, etc) for N4000 ($15) only, To pay with Paypal, Bitcoin or Ethereum; please click here to chat us up via Whatsapp.
You can also call 08111770269 or +2348059541956 to place an order or use the whatsapp button below to chat us up.
Bank details are stated below.
Bank: UBA
Account No: 1021412898
Account Name: Starnet Innovations Limited
The Blazingprojects Mobile App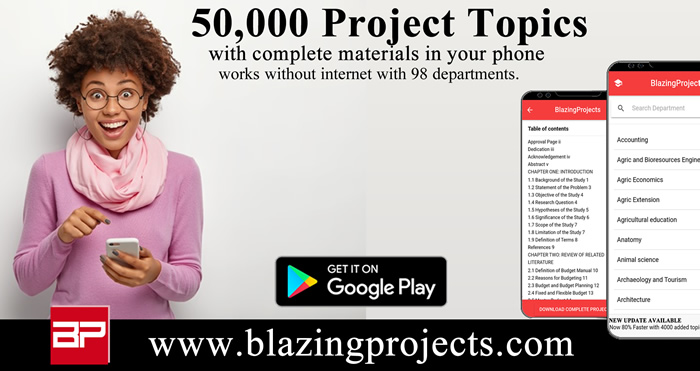 Download and install the Blazingprojects Mobile App from Google Play to enjoy over 50,000 project topics and materials from 73 departments, completely offline (no internet needed) with the project topics updated Monthly, click here to install.