AN APPRAISAL OF THE LIABILITIES OF A COMPANY FOR THE ACTS OF ITS DIRECTORS
ABSTRACT
A company can be described as a legal entity or a body corporate, having perpetual succession and also a common seal, as well as the ability to sue and be sued in its own corporate name. Suffice to state, also that the company upon its incorporation can acquire property in its corporation name. This corporate personality, gives the company the status of a person; albeit artificial, having all the qualities of a normal human being.
It should be noted, that a company is by virtue of the celebrated case of Salomon V. Salomon & Co. (1897) A.C. 22, an entity separate from its members having the capacity to own assets, properties, liabilities, right and obligations incidental to the activities of the company done, giving it responsibilities for all its acts and not its members and/or officers.
The effect of this, is that the members or officers of the company are not in any way under any form of liability for acts done in course of discharging their duties but the company (a legal person) bears all such liability; even though its activities are carried out by human beings whose acts are of paramount importance to the company.
At this juncture, it would not be out of place to state with particular reference to this project work that the acts of directors as officers of the company are also accruable to the company. Be that as it may; the meaning and nature of a director is without a universally acceptable definition, neither could it lend itself an easy definition and a much easier understanding. However, directors can be defined as managers of the company. They are not employed by the company and as such cannot be said to be employees of the company, servants or members there to but they can be seen as officers of the company, for the purpose inter alia of making the company vicariously liable for their acts and omissions while engaged in the business of the company.
In essence, this project work has as its sole aim; the consideration of the liabilities of a company for the acts of its agents, with particular reference and emphasis on the director of a company and it shall also consider, the position of the law, as it relates to the above issue of liability of a director with reference to a company.
TABLE OF CONTENTS
ABSTRACT
TABLE OF CONTENTS
TABLE OF CASES
TABLE OF STATUTES
LIST OF ABBREVIATIONS
CHAPTER 1
GENERAL INTRODUCTION
1.0.0: INTRODUCTION
1.1.0: BACKGROUND TO THE STUDY
1.2.0: OBJECTIVES OF STUDY
1.3.0: FOCUS OF STUDY
1.4.0: SCOPE OF STUDY
1.5.0: METHODOLOGY
1.6.0: LITERATURE REVIEW
1.7.0: DEFINITION OF TERMS
1.8.0: CONCLUSION
CHAPTER 2
THE DIRECTORS OF A COMPANY
2.0.0: INTRODUCTION
2.1.0: TYPES OF DIRECTORS
2.2.0: APPOINTMENT OF DIRECTORS
2.3.0: POWERS OF DIRECTORS
2.4.0: PROCEEDINGS OF DIRECTORS
2.5.0: CONCLUSION
CHAPTER 3
DUTIES AND RESPONSIBILITIES OF DIRECTORS
3.0.0: INTRODUCTION
3.1.0: DIRECTORS AS TRUSTEES AND AGENT OF THE COMPANY
3.2.0: DIRECTORS CONFLICT OF INTEREST
3.3.0: DIRECTORS INTEREST IN CONTRACT
3.4.0: DIRECTORS AND SECRET PROFIT
3.5.0: FIDUCIARY RESPONSIBILITIES
3.6.0: CONCLUSION
CHAPTER 4
LIABILITIES AND REMEDIES OF DIRECTORS
4.0.0: INTRODUCTION
4.1.0: LIABILITIES OF THE COMPANY FOR THE ACT OF ITS OFFICERS AND AGENTS
4.1.1.0: CRIMINAL LIABILITIES
4.1.2.0: CIVIL LIABILITIES
4.2.0: REMEDIES
4.2.1.0: RELIEF FROM LIABILITY
4.3.0: CONCLUSION
CHAPTER 5
GENERAL CONCLUSION
5.0.0: CONCLUSION
5.1.0: RECOMMENDATION
BIBLIOGRAPHY
ARTICLES IN JOURNALS
BOOKS
GET THE COMPLETE PROJECT»
Do you need help? Talk to us right now: (+234) 8111770269, 08111770269 (Call/WhatsApp). Email: [email protected]
IF YOU CAN'T FIND YOUR TOPIC, CLICK HERE TO HIRE A WRITER»
Disclaimer: This PDF Material Content is Developed by the copyright owner to Serve as a RESEARCH GUIDE for Students to Conduct Academic Research. You are allowed to use the original PDF Research Material Guide you will receive in the following ways: 1. As a source for additional understanding of the project topic. 2. As a source for ideas for you own academic research work (if properly referenced). 3. For PROPER paraphrasing ( see your school definition of plagiarism and acceptable paraphrase). 4. Direct citing ( if referenced properly). Thank you so much for your respect for the authors copyright. Do you need help? Talk to us right now: (+234) 8111770269, 08111770269 (Call/WhatsApp). Email: [email protected]
Related Current Research Articles
---

Purchase Detail
Hello, we're glad you stopped by, you can download the complete project materials to this project with Abstract, Chapters 1 – 5, References and Appendix (Questionaire, Charts, etc) for N4000 ($15) only, To pay with Paypal, Bitcoin or Ethereum; please click here to chat us up via Whatsapp.
You can also call 08111770269 or +2348059541956 to place an order or use the whatsapp button below to chat us up.
Bank details are stated below.
Bank: UBA
Account No: 1021412898
Account Name: Starnet Innovations Limited
The Blazingprojects Mobile App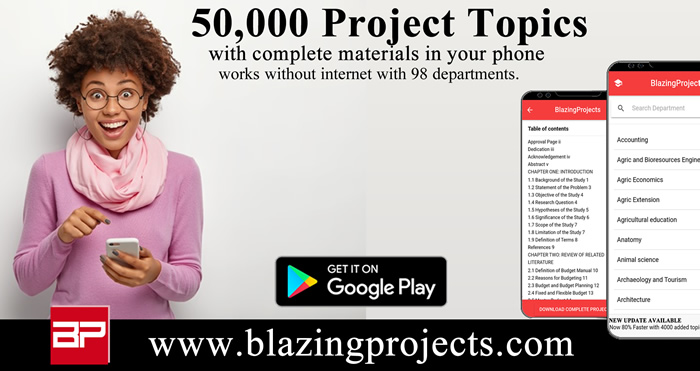 Download and install the Blazingprojects Mobile App from Google Play to enjoy over 50,000 project topics and materials from 73 departments, completely offline (no internet needed) with the project topics updated Monthly, click here to install.