ANTIMICROBIAL SCREENING AND ANTIINFLAMMATORY ACTIVITIES OF METHANOL EXTRACT OF Cissusaralioides
ABSTRACT
The aim of this study was to investigate the antimicrobial effect of Cissusaralioides extracts and their anti-inflammatory activity using experimental rat models. Phytochemical analyses of Cissusaralioides showed the presence of flavonoids, saponins, tannins, alkaloids, terpenoids, steroids and glycosides. Antimicrobial activity of C. aralioides was investigated against some gram negative bacteria such as Escherichia coli, Pseudomonas aeruginosa, Klebsiellaaerogenes and gram positive bacteria such as Staphyllococcus aureus and Streptococcus pneumonia using agar well diffusion method. Anti-inflammatory activities were tested on egg albumin-induced rat paw oedema, acetic acid-induced vascular permeability in rats, agar-induced leukocyte migration in rats and heat and hypotonic solution-induced haemolysis of human red blood cell membrane.Cissusaralioides extract administered orally up to the dose of 5000 mg/kg caused no deaths after 24 hours indicating that the lethal dose of Cissusaralioides is > 5000 mg/kg. Acetone, methanol and aqueous extracts displayed various degrees of antibacterial activity but the methanol extract showed higher activity against the bacteria examined. The extract significantly (p< 0.05) inhibited egg albumin-induced oedema in rats treated with the extract (100-400 mg/kg) and also significantly (p< 0.05) reduced exudate volume and vascular permeability induced by acetic acid in rats. The extract significantly (p< 0.05) stabilized human erythrocyte membrane subjected to heat and hypotonic-inducedlysis in the treated groups (100-800 µg/ml). This study has shown that the acetone, aqueous and methanol extracts of Cissusaralioides possessed antimicrobial properties, and the methanol extract had anti-inflammatory activity.
This Research Project Material is posted with good intentions. if you own it, and believe that your right is infringed or violated, Please send us a mail – [email protected] and actions will be taken immediately. Thank you.
---
Talk to us
Please call 08111770269 or +2348059541956 to place an order or use the whatsapp button below to chat us up.
The complete project material to this project topic costs N5000 ($15) and contains abstract, table of contents, Chapters 1 – 5, references and appendices (questionaire, images, etc). Please pay to:
Bank: UBA
Account No: 1021412898
Account Name: Starnet Innovations Limited
---
The Blazingprojects Mobile App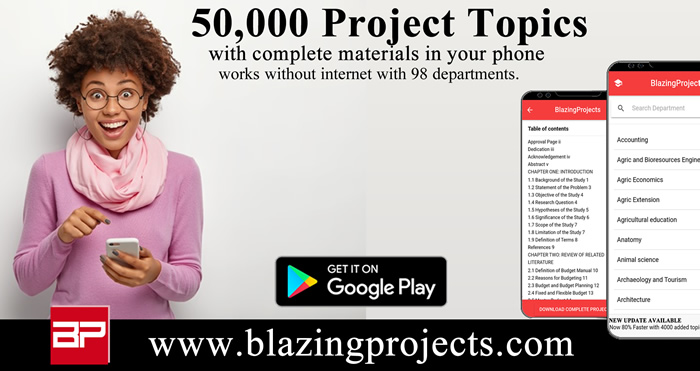 Download and install the Blazingprojects Mobile App from Google Play to enjoy over 50,000 project topics and materials from 73 departments, completely offline (no internet needed) with the project topics updated Monthly, click here to install.
Contains 50,000 project topics.
With complete project materials.
Contains 73 departments.
Completely offline, No internet needed.
Updated Monthly with new project topics & departments.
Easy to navigate and search projects.
Easily shareable via Xender, Bluetooth, etc.
Easy project support from inside the App.
Universities, Polytecnics & Colleges of Education.
INSTALL NOW