Introduction
Retirement is an integral part of a worker's life. It is regarded as an important stage in human development the world over. People who plan their retirement well in advance adjust well to retirement, and they are likely to go through it as a honeymoon phase in which they are quite active or may go through an R and R (Rest and Relaxation) phase of recuperating from stress and strains of employment (Odu, 1998 & Dada & Idowu, 2010).
According to Belsky (1990) retirement is a transition from the world of work into a world of less rigorous work activity and rest, especially in respect of retirement due to old age or long years of service. In Nigeria, no officer in the public service shall be allowed to remain in service after attaining the retirement age of sixty years or thirty five years pensionable service whichever is earlier (Federal Republic Nigeria, 2008). However, some retirements have not been due to old age or long service, but to a cut down in expenses in the public and private sectors of the economy as well as political factors (Adeoye and Legbara, 1997).
There are thousands of Nigerians who retire everyday. Workers, especially those on the verge of retirement have many concerns. The challenges and prospects of an enjoyable retirement are different for each and every person. Retirement anxiety affects millions of Nigerians every year. Concerns like: What will I do with my time? Who am I that I am longer a physician (or teacher or manger)? Do I have enough money or financial security to continue to live on when I retired? Have I saved enough? Will my spending have to be drastically curtained? Can I count in my national health insurance providers for Medicare? Can I count on my pension administrator or government for payment of my gratuity and pension?
Workers are not left out of this crossroads and puzzles. Their pay at the end of the month hardly takes them home. They have families to fend and provide for. Their wives and children must eat in order to live. Their children need to go to school and be well educated in order to be well off in life. They need houses of their own. These workers who are still in service are part of the larger society who read, see and watch on the pages of newspapers and in television respectively news of pensioners dying on the queue while waiting to be screened for payment of gratuity and pension; of other retirees waiting for over two years for their pension and gratuity to be processed; fraud by government officials and pension administrators; Pensioners being owed over two years of pension arrears and pensioners threats of committing suicide. Post-Retirement Life Styles A case in point is the recent threat by Mr. Amadi Dennis, who retired from Edo State Civil Service, who threatened to commit suicide on the 14th of February, 2014 because of government refusal to pay his gratuity and pension. He rescinded his 'valentine gift' to all Nigerians following plea from eminent Nigerians and friends. Obviously, these are enough to cause retirement anxiety among workers.Post-Retirement Life Styles
The causes of retirement anxiety among workers therefore, are irregular payment of pension and gratuity, lack of faith in the ability to survive because of what befell other retirees in the past, lack of planning for retirement on the part of workers, lack of business skills and vocational expertise, lack of personal development, lack of funds to venture into business before and after retirement; unnecessary delay in processing pension claims (Brandon 2011). In order to overcome the anxiety, workers device means to continually remain in the service or work even in retirement (Brandon, 2011). Post-Retirement Life Styles This seems to be the reason for falsification of records and age by workers in a bid to remain in service even after attaining the retirement age. Little wonder then why septuagenarians and octogenarians are still in the public and private services when they are supposed to be enjoying their retirements.Post-Retirement Life Styles
The actions and inactions of government and other retirement service administrators on one hand, and the situation faced by workers on the other hand are obviously anxiety provoking, especially to workers who are yet to retire or be retired. There is therefore the need to examine retirement anxiety in all ramifications and proffer counselling interventions for  managing retirement anxiety among workers. In doing this, the paper focuses on the concept of retirement anxiety, nature, causes and effects of retirement anxiety on workers, and counselling interventions for managing retirement anxiety among workers.Post-Retirement Life Styles.
GET THE COMPLETE PROJECT»
Do you need help? Talk to us right now: (+234) 8111770269, 08111770269 (Call/WhatsApp). Email: [email protected]
IF YOU CAN'T FIND YOUR TOPIC, CLICK HERE TO HIRE A WRITER»
Disclaimer: This PDF Material Content is Developed by the copyright owner to Serve as a RESEARCH GUIDE for Students to Conduct Academic Research. You are allowed to use the original PDF Research Material Guide you will receive in the following ways: 1. As a source for additional understanding of the project topic. 2. As a source for ideas for you own academic research work (if properly referenced). 3. For PROPER paraphrasing ( see your school definition of plagiarism and acceptable paraphrase). 4. Direct citing ( if referenced properly). Thank you so much for your respect for the authors copyright. Do you need help? Talk to us right now: (+234) 8111770269, 08111770269 (Call/WhatsApp). Email: [email protected]
Related Current Papers
---

Purchase Detail
Hello, we're glad you stopped by, you can download the complete project materials to this project with Abstract, Chapters 1 – 5, References and Appendix (Questionaire, Charts, etc) for N4000 ($15) only, To pay with Paypal, Bitcoin or Ethereum; please click here to chat us up via Whatsapp.
You can also call 08111770269 or +2348059541956 to place an order or use the whatsapp button below to chat us up.
Bank details are stated below.
Bank: UBA
Account No: 1021412898
Account Name: Starnet Innovations Limited
The Blazingprojects Mobile App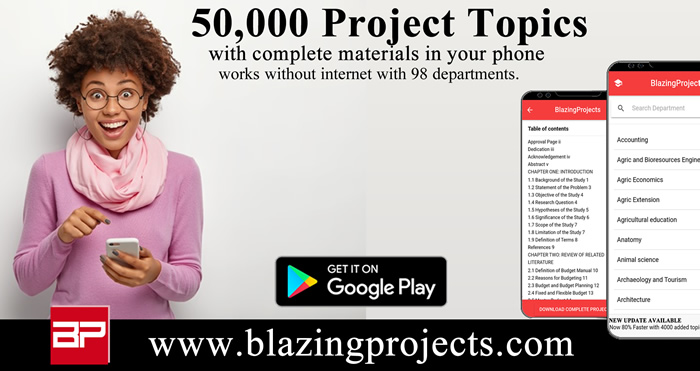 Download and install the Blazingprojects Mobile App from Google Play to enjoy over 50,000 project topics and materials from 73 departments, completely offline (no internet needed) with the project topics updated Monthly, click here to install.