[ad_1]

ABSTRACT
Tourism is one the largest and fastest growing industries in the world. It is an increasingly important source of income, employment and wealth in many countries. Its rapid expansion has, however, had detrimental environmental (and Scio- cultural) impacts on many regions. In this research I examine the main economic benefits and environmental impacts of tourism and review the development of the international sustainable tourism agenda. While much of international tourism activity takes place with the developed world, this research work will focus on the (economic) development of the industry in developing countries like Nigeria (Owerri Imo State) to be précised, I conclude that new approaches to sustainable tourism development in these countries should not only set to minimize local environmental impact, but also give greater priority to community participation and poverty alleviation. I argue in particular that more emphasis should be given to a pro poor tourism approach at both national and international levels.
[ad_2]
---

Purchase Detail
Hello, we're glad you stopped by, you can download the complete project materials to this project with Abstract, Chapters 1 – 5, References and Appendix (Questionaire, Charts, etc) for N5000 ($15) only,
Please call 08111770269 or +2348059541956 to place an order or use the whatsapp button below to chat us up.
Bank details are stated below.
Bank: UBA
Account No: 1021412898
Account Name: Starnet Innovations Limited
The Blazingprojects Mobile App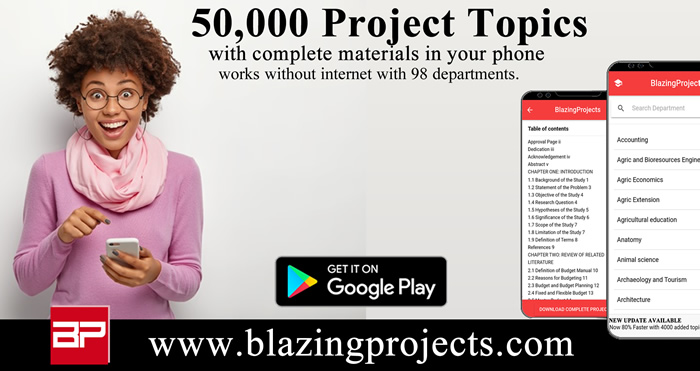 Download and install the Blazingprojects Mobile App from Google Play to enjoy over 50,000 project topics and materials from 73 departments, completely offline (no internet needed) with the project topics updated Monthly, click here to install.