URBAN GROWTH, FARM EXPORTS DRIVE TROPICAL DEFORESTATION
INTRODUCTION
A big but so far unspecified chunk of the cash will go on programmes to prevent loss of tropical forests, which is a major source of greenhouse gases.
Beyond 2012, tens of billions of dollars per year could be primed if a planned UN pact on curbing climate change comes to fruition.
But environmental scientists publishing in the journal Nature Geoscience on Sunday cautioned against a rush to favour schemes that are unlikely to work.
A common theory is that pressure on forests can be eased by reducing the population in rural areas, or discouraging rural people from clearing land for fuel or food for their own use.
The study, led by Ruth DeFries of New Yorks Columbia University, looked at satellite data for forest loss in 41 countries from 2000 to 2005 and matched this against a host of other factors.
Two much bigger causes accelerated forest loss, they found.
One was the demographic growth of the host countrys cities.
Urbanisation raises consumption levels and boosts demands for agricultural products.
City dwellers eat more processed food and meat, which in turn encourages large-scale farming that leads to forest clearance.
The other factor is agricultural exports, which also amplified demands for farmland.
"The strong trend in movement of people to cities in the tropics is, counter-intuitively, likely to be associated with greater pressures for clearing tropical forests," says the study.
"We therefore suggest that policies to reduce deforestation among local, rural populations will not address the main cause of deforestation in the future."
Poor tropical countries thus face a dilemma if they want to feed their swelling cities, export food to gain wealth and preserve their forest treasure.
One solution, says DeFries, is boost food yields in lands that have already been cleared.
GET THE COMPLETE PROJECT»
Do you need help? Talk to us right now: (+234) 8111770269, 08111770269 (Call/WhatsApp). Email: [email protected]
IF YOU CAN'T FIND YOUR TOPIC, CLICK HERE TO HIRE A WRITER»
Disclaimer: This PDF Material Content is Developed by the copyright owner to Serve as a RESEARCH GUIDE for Students to Conduct Academic Research. You are allowed to use the original PDF Research Material Guide you will receive in the following ways: 1. As a source for additional understanding of the project topic. 2. As a source for ideas for you own academic research work (if properly referenced). 3. For PROPER paraphrasing ( see your school definition of plagiarism and acceptable paraphrase). 4. Direct citing ( if referenced properly). Thank you so much for your respect for the authors copyright. Do you need help? Talk to us right now: (+234) 8111770269, 08111770269 (Call/WhatsApp). Email: [email protected]
Related Current Papers
---

Purchase Detail
Hello, we're glad you stopped by, you can download the complete project materials to this project with Abstract, Chapters 1 – 5, References and Appendix (Questionaire, Charts, etc) for N4000 ($15) only, To pay with Paypal, Bitcoin or Ethereum; please click here to chat us up via Whatsapp.
You can also call 08111770269 or +2348059541956 to place an order or use the whatsapp button below to chat us up.
Bank details are stated below.
Bank: UBA
Account No: 1021412898
Account Name: Starnet Innovations Limited
The Blazingprojects Mobile App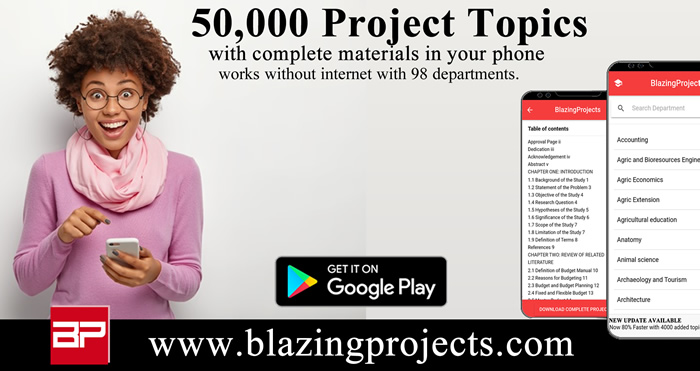 Download and install the Blazingprojects Mobile App from Google Play to enjoy over 50,000 project topics and materials from 73 departments, completely offline (no internet needed) with the project topics updated Monthly, click here to install.