CHAPTER I: Introduction
1.1            Background of the Study
The ideal situation for inspection is of course one in which no inspection is necessary. This is because the quality assurance effort cooperatively mounted by the purchaser and supplier has resulted in outstanding quality performance and reliable supporting supplier generated records.
However not all organizations have reached this enviable goal, examining some of the more common ideas surrounding inspection and quality control is useful conversely. Adequate drafting or written of specification of materials to be delivered by suppliers is not always a guaranteed to ensure quality material in an organization there is need for the inspection of materials coming into the organization to ensure that supplier provides materials that conform to the quality expected.
The purpose of inspection is to ensure that supplier has delivered item that corresponds to the organizational specification or description of the organizational product or services, their product and services must be watched with care until they have get to prove themselves dependable.
Unfortunately, two production methods skills even of established supplier change from time to time. Operators becomes careless, errors are made and occasionally a seller may try to reduce production costs to the point where quality suffers. Thus, for a variety of reasons, if is poor policy for buying organization to neglect inspection methods or procedures. Therefore, the verification of the quality of incoming materials is an important task by any concerned in order to ensure quality materials and also to provide the customer service required level.
1.2            Statement of the Problem
Apparently, in the market, there had been increased in the number of substandard items or products ranging from organizational goods to the consumers goods, therefore, the reasons for that is total negligence upon inspection which automatically result to many substandard products found way into production process and warrant to poor quality products in the market.
In consideration of the money spent on materials acquisition, inspection is very vital. The researcher observed that in many organizations purchasing and supply aim that is responsible for acquisition of materials has not been given the right to exercise their profession that will take care of inspection, for that we can see procurement activities has been snatched from the procurement officers by other officers of different background at all levels, such backgrounds include: account, marketing, human resources, management, engineering, architecture, medical line, even social development.
It was also observed that in many organizations the decision for inspection of coming materials into firms has been left to man by the functional staff of many of these firms, which the research believed to be bad practice, because this function is very critical and the decision to inspect materials purchased by many concern should be made by the top management cadre of the organization in order to formulate good policy and strategic decision to enhance quality production.
1.3            Purpose of the Study
The aim of this study is to examine the use of raw materials inspection and its impact on quality of production in Nigeria bottling company. The study is set out specifically to:
i. To highlight the methods of raw materials inspection and its impact on quality of production in Nigeria bottling company.
ii. To identify the function responsible for inspection in Nigeria bottling company.
iii. To identify the extend to which inspection helped the organization in achieving quality production.
iv. To determine how quality of raw materials affect production process.
1.4            Significance of the Study
This research work is centered on impact of raw material inspection on quality production in Nigeria Bottling Company (NBC) Kaduna plant. Therefore, the research study will be of benefit to the organization and other organizations in Nigeria as a whole.
The study will also be of great benefit to students, executives, and also the researcher, management field and entire population.
The organization will benefit from the research work, because the study will explain in details the reason why inspection should be taken with utmost consideration and the significance they stand to benefit on inspection, if employed for the control of quality.
It will also bring to the executives of the organization notice the function of purchasing and supply management i.e. procurement department. It will also guide to know what inspection is and its impact on ensuring quality in an organization. To students, the study will add value to their knowledge in understanding what inspection entails and prepare their minds against failure on challenges.
Therefore, the study is also a requirement for a partial fulfillment for the award of Higher National Diploma in Purchasing and Supply Kaduna Polytechnic, Kaduna.
1.5            Scope of the Study
The study of the researcher focuses on impact of raw material inspection on quality production with special consideration to Nigeria Bottling Company (NBC) Kaduna plant.
The finding of the study will be on the data collected from the management and staff of the company that deals primarily with raw materials inspection. Acquisition, production and quality control of the organization, drawn from the purchasing department, production department and stock control section of the organization of Nigeria Bottling Company (NBC) Kaduna plant.
1.6            Research Questions
To measure the inspection of raw material as a tool to enhancing quality in NBC, the researcher has drawn up some research questions which are:
i. What is the method of inspection adopted in Nigeria Bottling Company in achieving quality materials?
ii. What are the functions responsible for inspection in NBC?
iii. To what extent has inspection of material contributed to the success of the organization in achieving quality materials?
iv. How does quality of raw material affect production process?
1.7            Definition of the Terms
Inspection: Inspection is the process of verifying the quality and quantity of incoming materials.
Conformance: conformance is the degree to which delivered product meet predetermined standards set by the users or a consolidated authority.
Performance: performance related to the products operating features and how the product will is able to perform the task it was originally designed to and satisfy intended need.
Standard: A standard is a specification intended for recruitment use. A standard differ from specification in that whereas every standard is a specification not every specification is a standard. Standards are the process based on expectations reflecting how material or service rendered.
Specification: A specification has been defined in the following ways:
A statement of attributes of a product or services.
A statement of requirement
Quality: There are many definitions of quality. ISO 8402 defines quality as the total features and characteristics of a product that bears on the ability to satisfy stated or implied needs.
---

Purchase Detail
Hello, we're glad you stopped by, you can download the complete project materials to this project with Abstract, Chapters 1 – 5, References and Appendix (Questionaire, Charts, etc) for N5000 ($15) only,
Please call 08111770269 or +2348059541956 to place an order or use the whatsapp button below to chat us up.
Bank details are stated below.
Bank: UBA
Account No: 1021412898
Account Name: Starnet Innovations Limited
The Blazingprojects Mobile App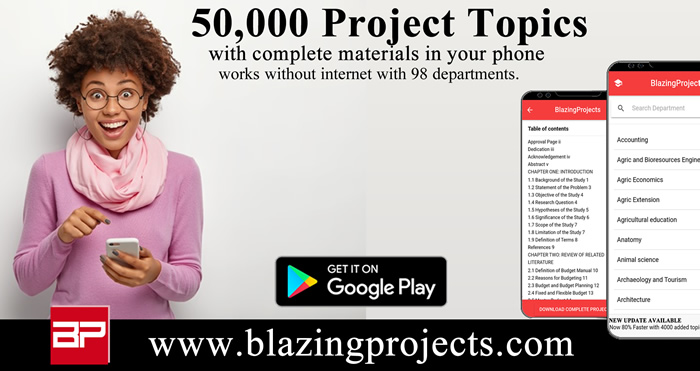 Download and install the Blazingprojects Mobile App from Google Play to enjoy over 50,000 project topics and materials from 73 departments, completely offline (no internet needed) with the project topics updated Monthly, click here to install.