CHAPTER ONE
1.1       INTRODUCTION
Water is of the materials require to sustain life.  It is naturally, available and covers 70% of th earth's crust.
With the increasing demand of clean, potable water for domestic and industrial use, developing, locating and maintaining a cost-effective water treatment techniques is imperative.
An obvious and fundamental pollution problem at any location is waste water discharge.  Most waste waters contain sanitary wastes generated by employees at the sites,  streams from kitchen wastes, gutters, sewage, as well as process waste waters.
Sanitary waste water and ground water can be treated satisfactorily by the municipal waste water treatment system.
Separate treatment is also given to industrial process waste water, the contaminants in industrial discharges that ae commonly regulated include total grease (FOG) PH, biochemical oxygen demand (BOD) and certain metals.
Water treatment or cleaning I vital for industrial and technology is to identify any pathagenic organisms, dissolve and undissolved compainds that constitute hazards for the user and develop high quality, cost effective treatment procedures to meat regulated environmental protection agency (EPA), othe water quality contrial agencies – NAFBAC standards and specification.
Water cleaning technology can be grouped into two, namely; Convection and Non-convectional (advance technology).
The convectional technology is the pre or post cliloroination-filteration systems.  The non-convectional or advance technology are the fenton chemistry technique, bio-oxidation system, membrane separation high pressure – centigugal system and ion-exchange system.
In this context, four water cleaning techniques are discussed.   The pre/post chlorination / flocculation, sediment filteration, disinfectation and quality testing.
Fentoris chemistry technique uses hydrogen peroxide and an iron catacyst to destory contaminants.
High pressure – centrifugal system which involve the use of centrigufal force of high pressure to kill pathogens and microbes in a reactor contaning the unclean water.  And membrane technology.
Finally, EPA standards on water quality are recommended.
1.2       SCOPE OF PROJECT
The project – water cleaning techniques is a esearch work to find out different water cleaning or treatment technologies employed in treating waste waters in order to raise its quality to the highest possible level for human conseumption and industry use.
Three different technology are researched here which include pre/post disintectation. – foltration systems, fentou's chemistry system and hig pressure oxidative combustion.  Centrigufal system EPA water quality standards are also presented.
1.3                         SOURCES OF WASTE WATER
Wastewater can be gotten through two main sources namely:
·                     Domestic effluent water
·                     Industrial effluent loads
DOMESTIC EFFLUENT WATER
Domestic effluent water ae from hetchen, laundry, cavatory, gutters, stagnant water, contaninted streams, rivers.   They contain both dissolved and undissolved organic and inorganic substances like paper, decayed mater, polymer pieces, detergent, oil & pigments, metal pieces.
INDUSTRIAL EFFLUENT WATERS
These are wastewater from chemical rpocess industries.  They contain dissolved and undissolved poisonous substances corrosive and obrasive fluid like hydrocarbone, flurolarbous, sulphates, sulphides, cyanides, etc.
Do you need help? Talk to us right now: (+234) 8111770269, 08111770269 (Call/WhatsApp). Email:
Disclaimer: This PDF Material Content is Developed by the copyright owner to Serve as a RESEARCH GUIDE for Students to Conduct Academic Research. You are allowed to use the original PDF Research Material Guide you will receive in the following ways: 1. As a source for additional understanding of the project topic. 2. As a source for ideas for you own academic research work (if properly referenced). 3. For PROPER paraphrasing ( see your school definition of plagiarism and acceptable paraphrase). 4. Direct citing ( if referenced properly). Thank you so much for your respect for the authors copyright. Do you need help? Talk to us right now: (+234) 8111770269, 08111770269 (Call/WhatsApp). Email:
---

Purchase Detail
Hello, we're glad you stopped by, you can download the complete project materials to this project with Abstract, Chapters 1 – 5, References and Appendix (Questionaire, Charts, etc) for N4000 ($15) only, To pay with Paypal, Bitcoin or Ethereum; please click here to chat us up via Whatsapp.
You can also call 08111770269 or +2348059541956 to place an order or use the whatsapp button below to chat us up.
Bank details are stated below.
Bank: UBA
Account No: 1021412898
Account Name: Starnet Innovations Limited
The Blazingprojects Mobile App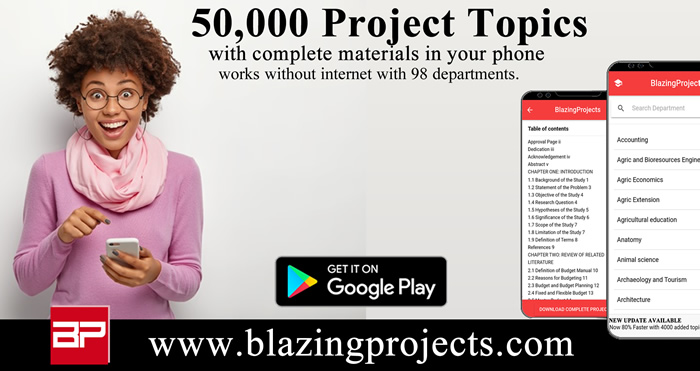 Download and install the Blazingprojects Mobile App from Google Play to enjoy over 50,000 project topics and materials from 73 departments, completely offline (no internet needed) with the project topics updated Monthly, click here to install.