ABSTRACT
The subjects of interest in this work were the production of biogas via anaerobic co-digestion of tannery fleshing and cow-dung; and the reduction of sulphide concentration by direct inclusion of sodium and calcium alginate. Comparison of the efficacy of various tannery beam house effluents as substrate diluents indicated that the soaking liquor was most favourable. Use of soaking liquor gave highest methane concentration of 11.8%v/v as against 8.8%v/v, 1.2%v/v, and 4.1%v/v when deliming liquor, liming liquor and a combination of the entire beam house liquors were used respectively. Effect of various fleshing to cow-dung ratio of 1:0, 1:0.5, 1:1 and 1:2 were investigated. The optimum was established to be ratio 1:2 as indicated by the highest methane concentration of 45%v/v as against 1.9%v/v, 5.1%v/v, 7.3%v/v for 1:0, 1:0.5 and 1:1 respectively. The ability of minute concentration of sodium and calcium alginates (0.01% wt/v) introduced from the beginning of the anaerobic digestion cycle to increase methane concentration and reduce hydrogen sulphide concentration was ascertained. The alginates acted as chelating ligands thereby boosting methane production and reducing sulphide concentration. Methane concentration was significantly boosted to 70.1%v/v and 63.8%v/v with the addition of sodium alginate and calcium alginate beads respectively, as against 45%v/v for a similar digestion sample without alginate. Generally, sodium alginate performed better than calcium alginate beads both of 0.01% wt/v. However, an increase in concentration of calcium alginate beads to 0.03% wt/v performed better than sodium alginate of 0.01% wt/v. In addition, inclusion of the alginates to the digestion system shortens the retention time for biogas production and hydrogen sulphide evolution. This work thus recommends soaking liquor as diluent in the anaerobic digestion of tannery fleshing, use of tannery fleshing and cow-dung in the ratio of 1:2 for anaerobic co-digestion and the use of sodium and calcium alginates (0.01% wt/v) acting as chelating ligands to remove hydrogen sulphide and boost methane production above 20%.
CHAPTER 1
INTRODUCTION
1.1 Preamble
Leather processing is one of the earliest industrial activities taken up by humans (Germann, 1999). Leather processing otherwise called tanning, is a chemical process that converts animal hides and skin into leather and related products. The tanning (leather) industry is of economic importance; should all the hides and skins processed in Nigeria be converted to footwear, the total foreign exchange will amount to 96 billion naira per annum (Paiko, 2002). According to ComTrade for 2010, Nigeria exports around 40 million skins valued in excess of 480 billion naira and representing about 2.9% of global trade in hide and skin. Despite the foregoing economic viability of the industry, it suffers serious environmental shortcomings in terms of the intensity of hazardous pollutants ranging from solids to heavy metals. Presently, most tanneries within the country have poor effluent treatment approach, which do not take cognizance of reuse, reduce or conversion of its waste to wealth. However, uncontrolled waste dumping is no longer an acceptable practice and incineration of organic wastes is now outdated in environmental control parlance. Environmental standards are increasingly getting stricter, while energy recovery and recycling of nutrients and organic matter is being promoted (Teodorita et al., 2008).
A detailed overview of tanning industry reveals the beam house to be the major source of solid pollutant and equally produces the largest part of the effluent load. The characteristic foul odour of tanneries is due to high sulphide load and putrefaction of fleshing and trimmings which constitute 58% of its total solid waste (Ozgunay, 2007).
GET THE COMPLETE PROJECT»
Do you need help? Talk to us right now: (+234) 8111770269, 08111770269 (Call/WhatsApp). Email: [email protected] Disclaimer: This PDF Material Content is Developed by the copyright owner to Serve as a RESEARCH GUIDE for Students to Conduct Academic Research. You are allowed to use the original PDF Research Material Guide you will receive in the following ways: 1. As a source for additional understanding of the project topic. 2. As a source for ideas for you own academic research work (if properly referenced). 3. For PROPER paraphrasing ( see your school definition of plagiarism and acceptable paraphrase). 4. Direct citing ( if referenced properly). Thank you so much for your respect for the authors copyright.
Related
---

Purchase Detail
Hello, we're glad you stopped by, you can download the complete project materials to this project with Abstract, Chapters 1 – 5, References and Appendix (Questionaire, Charts, etc) for N4000 ($15) only, To pay with Paypal, Bitcoin or Ethereum; please click here to chat us up via Whatsapp.
You can also call 08111770269 or +2348059541956 to place an order or use the whatsapp button below to chat us up.
Bank details are stated below.
Bank: UBA
Account No: 1021412898
Account Name: Starnet Innovations Limited
The Blazingprojects Mobile App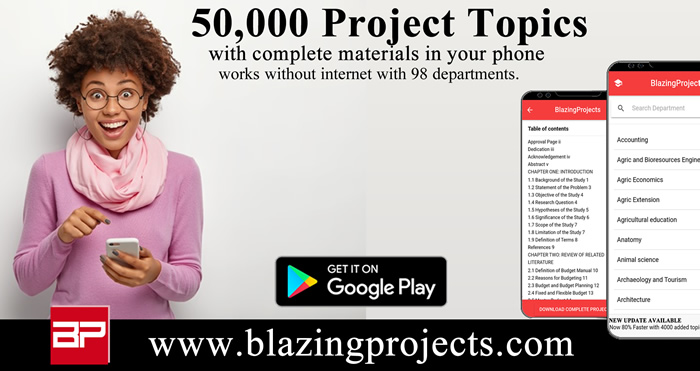 Download and install the Blazingprojects Mobile App from Google Play to enjoy over 50,000 project topics and materials from 73 departments, completely offline (no internet needed) with the project topics updated Monthly, click here to install.