ABSTRACT
Political organisation's survival solely depends on the goodwill it receives from it various publics, especially when its public has to do with various views and beliefs. Hence the victory of any political organisation depends on the use of Public Relations tools and how effective its (PR) explored.
This research therefore, examined Public Relations as the Surviving Force of Political Organisation in Nigeria using All Progressive Congress as the Case Study.
In this research, the following hypotheses were tested;
                               I.            Was it publicity that contributed to APC victory?
                             II.            Did APC have the strongest Public Relations activities during the election?
                          III.            Is Public Relation one of the best techniques for political victory?
                         IV.            How effective is the role of PR in the race of presidential election?
                            V.            What are the various Public relations techniques employed by All Progressive Congress and how were they effectively used?
The research methodology used is Survey Method and Thematic Analysis. I used survey because it gives room for obtaining fresh and relevant information from a fair representative cross section of the respective respondents and the research instrument used for the survey was questionnaire. The thematic analysis is also employed in order to establish and complement the result from the survey; therefore, existing records are thematically analyzed.
          In conclusion, the research reveals that Public Relations is the surviving force for political organisation in Nigeria. It also stands as the victory tool for political parties.
CHAPTER ONE
1.0              INTRODUCTION
          The struggle of various political organisations towards attempting to defeat the singular ruling party for sixteen years of democracy in Nigeria since its inception, ponders on their respective effectiveness and practice of public relations. This struggle for 'change' definitely came through, in the just concluded 2015 general election as All Progressive Congress (APC) swept out sixteen years old ruling party, People's Democratic Party (PDP).
          Public Relations reinforcement of the APC, resulting from its merging and collaboration of three political parties; All Nigeria People's Party (ANPP), Action Congress of Nigeria (ACN), and Congress for Progressive /change (CPC) respectively. It is expedient to recall that each of this political party had one time or the other attempted the presidential race in order to defeat the ruling party but invariably proved abortive.
GET THE COMPLETE PROJECT»
Do you need help? Talk to us right now: (+234) 8111770269, 08111770269 (Call/WhatsApp). Email: [email protected]
IF YOU CAN'T FIND YOUR TOPIC, CLICK HERE TO HIRE A WRITER»
Disclaimer: This PDF Material Content is Developed by the copyright owner to Serve as a RESEARCH GUIDE for Students to Conduct Academic Research. You are allowed to use the original PDF Research Material Guide you will receive in the following ways: 1. As a source for additional understanding of the project topic. 2. As a source for ideas for you own academic research work (if properly referenced). 3. For PROPER paraphrasing ( see your school definition of plagiarism and acceptable paraphrase). 4. Direct citing ( if referenced properly). Thank you so much for your respect for the authors copyright. Do you need help? Talk to us right now: (+234) 8111770269, 08111770269 (Call/WhatsApp). Email: [email protected]
Related Current Research Articles
---

Purchase Detail
Hello, we're glad you stopped by, you can download the complete project materials to this project with Abstract, Chapters 1 – 5, References and Appendix (Questionaire, Charts, etc) for N4000 ($15) only, To pay with Paypal, Bitcoin or Ethereum; please click here to chat us up via Whatsapp.
You can also call 08111770269 or +2348059541956 to place an order or use the whatsapp button below to chat us up.
Bank details are stated below.
Bank: UBA
Account No: 1021412898
Account Name: Starnet Innovations Limited
The Blazingprojects Mobile App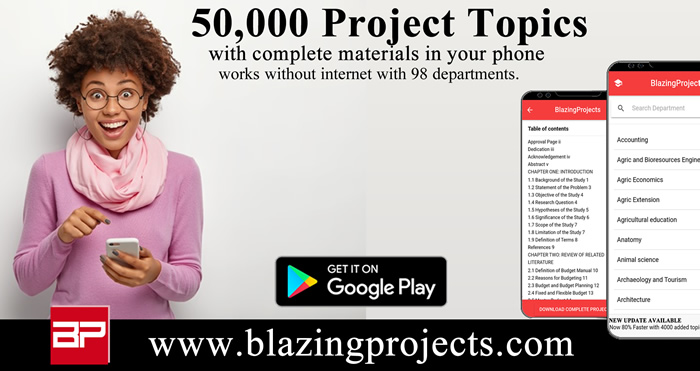 Download and install the Blazingprojects Mobile App from Google Play to enjoy over 50,000 project topics and materials from 73 departments, completely offline (no internet needed) with the project topics updated Monthly, click here to install.